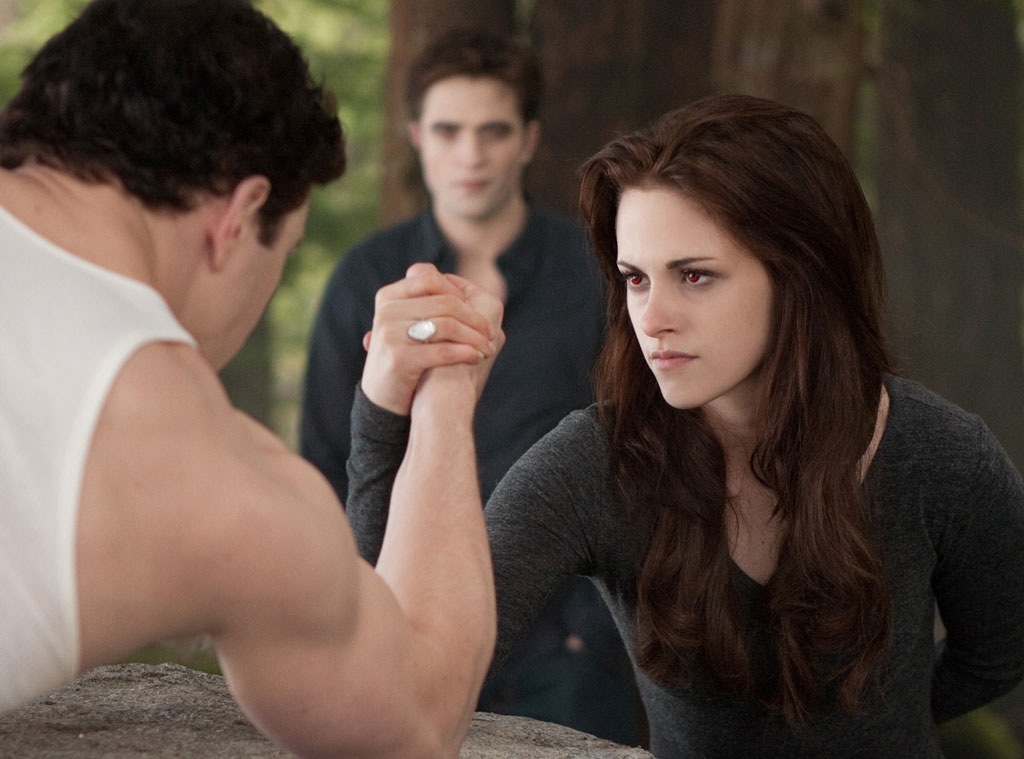 Summit Entertainment
Outside of Minneapolis, Andy Chambers, a general manager at a local multiplex, is expecting Breaking Dawn Part 2 to be what he's always expected it to be: "Big."
The final Twilight film, showing nationwide midnight Friday, may offer the best read yet on the state of the 12 a.m., opening-day screening, the fan rite of passage now linked to the July 20 rampage at a Dark Knight Rises theater, the scene of the worst mass shooting in U.S. history.
In one way, the witching-hour box office has been the same as it ever was. Some movies simply play better at midnight than others. But beyond that there are questions.
Paranormal Activity 4, for example, scared up a huge 12 a.m. number ($4.5 million), which nonetheless was significantly smaller than the launch of last fall's Paranormal Activity 3 ($8 million).
But was that because audiences were spooked by Aurora, or by the new movie, which was generally disliked by critics and moviegoers alike?
Another instance: The just-released Skyfall was nearly twice as big at midnight as Immortals was on the same November weekend last year—a reported $2.4 million versus $1.4 million.
Was that because Skyfall's a James Bond movie with great buzz, or because audiences won't be deterred from seeing what they want to see, or both?
Box-office analyst Paul Dergarabedian of Hollywood.com doesn't think we'll see the big picture until Breaking Dawn Part 2, which hails from a franchise that to date has posted three of the all-time biggest midnight grosses.
"Since the Colorado tragedy, there has not been a movie on this order of magnitude to have midnight screenings," Dergarabedian says.
From the front lines, Chambers, who runs the Willow Creek 12 Theatre in Plymouth, Minn., seems to agree: "It's too tough to tell," he says. "The fact of the matter is The Dark Knight Rises was right at the end of the end of summer box-office season."
What Chambers does know is that midnight business generally hasn't been itself at his theaters for a while.
"We have seen a little bit of regression that goes back to before Dark Knight…," Chambers says. "We asked if the novelty was wearing down."
Hollywood, which has been getting attention for its midnight openings for at least 20 years, seems to be asking itself the same question. Last month, Fox told the Hollywood Reporter it unspooled Taken 2 at 10 p.m. on Thursday in advance of the usual midnight Friday screenings to "stimulate late-night business." Indeed, Breaking Dawn Part 2 will itself debut at 10 p.m. Thursday at many theaters.
No matter what time the new Twilight bows, moviegoers seem likely to follow. BoxOffice.com was projecting a franchise-record $145 million Friday-Sunday, with a presumed good chunk of business coming from the earliest screenings. Deadline reports that Breaking Dawn Part 2 is already smashing box office records overseas.
Says Dergarabedian: "I think the target audience has a ravenous desire to see the film."
Here's a rundown of the top 10 all-time midnight debuts, as compiled per Hollywood.com stats:
Harry Potter and the Deathly Hallows: Part 2, $43.5 million
The Dark Knight Rises, $30.6 million
The Twilight Saga: Breaking Dawn Part 1, $30.3 million
The Twilight Saga: Eclipse, $30 million
The Twilight Saga: New Moon, $26.3 million
Harry Potter and the Deathly Hallows: Part 1, $24 million
Harry Potter and the Half-Blood Prince, $22.2 million
The Hunger Games, $19.7 million
The Avengers, $18.7 million
The Dark Knight, $18.5 million