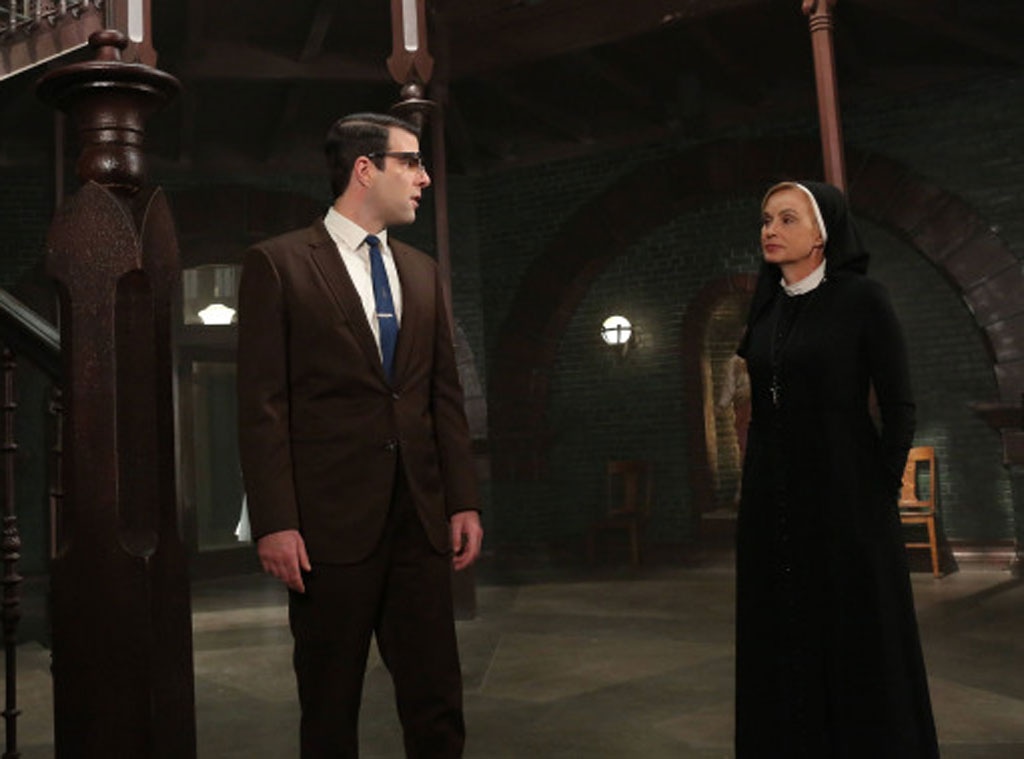 Byron Cohen/FX
Bloody Face has been revealed, so now what?!
That's the question on the minds of American Horror Story: Asylum fans this morning after last night's shocker of an episode, so we went to one of the FX hit's stars for scoop on what's ahead. Plus, we've got scoop on the Gossip Girl series finale, who we'll be seeing back in the Hamptons on Revenge, and what's ahead for a Glee fan-favorite couple! Oh, and today's Spoiler Chat includes spoilers on Scandal, New Girl and more...
Sandra: Got any New Girl goodies?
You thought we were only going to meet Jess' parents (played by Jamie Lee Curtis and Rob Reiner)? Think again! Fans will be introduced to Walt Miller, Nick's father in episode 13. And guess what? He's a con man! Yes, the charming Walt will pay his son a visit, but of course, he will have mysterious motives. Any casting suggestions? Hit us up in the comments!
Janet: What's this I hear about a plane crash in the Gossip Girl finale?!
In addition to said plane crash on the CW hit, we can confirm another crazy incident will occur, one so crazy that we won't dare spoil, but we can tease it's similar to a tragedy that happened early on during season one of Revenge. And it will happen to one of the core five cast members! 
Nora in Indianapolis: I cannot believe Dr. Thredson is Bloody Face! Please tell me Lana is going to escape! #AHS
Not anytime soon. In fact, Sarah Paulson tells us that the most shocking scene yet is coming up in next week's episode of Asylum, and it involves both Lana and Dr. Thredson/Bloody Face. You thought "mossy banks" was a disturbing line that will haunt your dreams forever? Just you wait.
Dani: In dire need of some Wemma scoop! What's ahead for my favorite Glee couple? 
Tension, most likely! When we asked Matthew Morrison if there will be tension between Emma and Will when he returns from Washington, D.C., he says, "It's Glee! Yeah, probably." As for good news for the couple? Morrison isn't sure what's ahead, but teases, "Wemma babies? Your guess is as good as mine. I don't know, it's interesting. I heard Ryan [Murphy] say the other day, 'I think Glee is going to last another four years,' and I was like, 'Woah!' So I'm interested to see where they go, this season has been really cool and different for us, I'm looking forward to seeing where the show goes."
Thomas: Game of Thrones season three is coming, supply me with spoilers please!
In case ya missed it, check out the HBO hit's first artwork for the highly-anticipated new season, which features its return date:  March, 31, 2013. So. Far. Away. In the meantime, catch up on all the season three news, including new castmembers we'll be meeting and more here. 
Gillian: Scandal scandal scandal I need scoop!!!
Tony Goldwyn told us some secrets about season two, and we could not be more excited. "I can tell you that there's more flashback episodes coming, so the audience is going to find out a lot more about what's behind all of our relationships. Olivia and mine's relationship, my marriage, how everyone at Olivia Pope and Associates got together," he says. "The story moves that Shonda [Rhimes] makes are as big and as shocking than in season one." Color us ready for more Scandal drama! Bonus scoop: We're hearing a presidential debate is coming up soon.
Terry in Las Vegas: Hit me with some Revenge scoop, if you can!
When Revenge returns on Nov. 25, it will be the flashback episode, so we're headed back to 2006! As for the present, we asked Ashley Madekwe if there was a future for her and Daniel, and she took a long pause before answering. "I can't answer that! But we're still doing it [right now]." Rub it in, why don't you? Madekwe also confirmed that Jennifer Jason Leigh, aka Emily's mom, will be back in future episodes.
—Additional reporting by Jenna Mullins, Tierney Bricker & John Boone