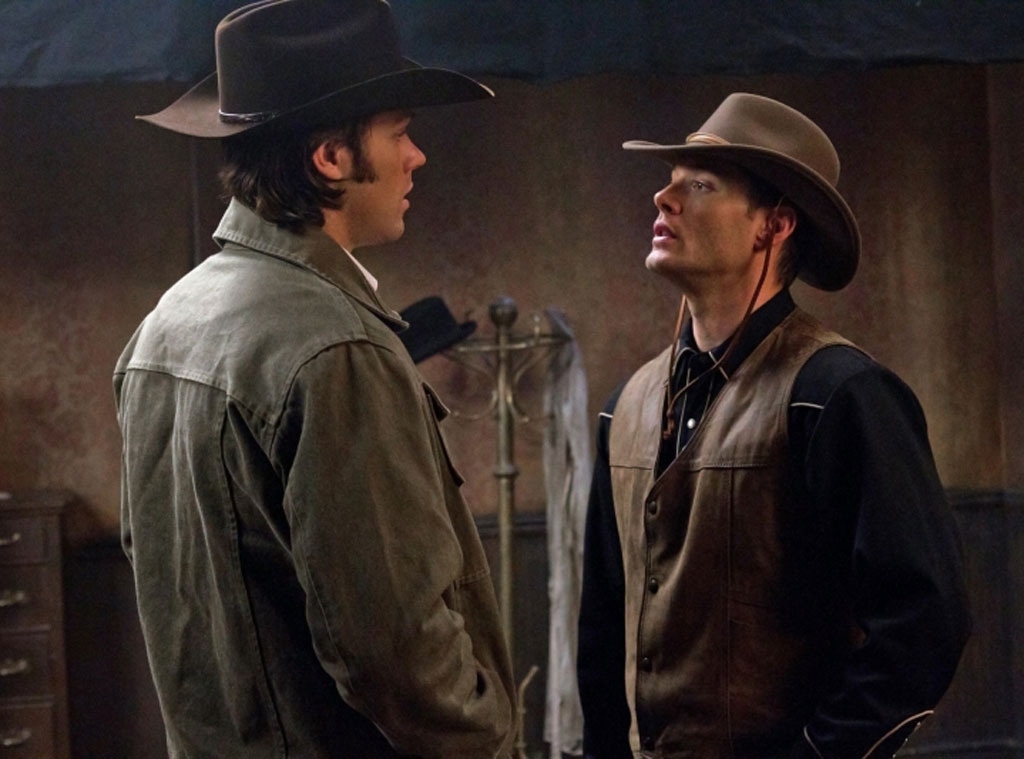 CW
Ah, there's a killer on the loose!
And said killer is about to be revealed during tonight's scary (understatement of the TV season!) installment of American Horror Story, which will unmask the identity of Bloody Face. Luckily for you, we've got some scoop on what will be one of the year's biggest reveals! Plus, we've got scoop on what you can expect from Supernatural, How I Met Your Mother, Castle, Bones and more in today's Spoiler Chat...
Nikki: You've been slacking on the Supernatural scoop lately, lady! Fork it over!
Like what you see in the picture above aka the Winchester brothers in cowboy hats? Oh, you do? Well then that's good because you're probably going to see the boys donning hats again in an upcoming episode when they find themselves on an Idaho ranch and in the company of a young cowgirl named Ellie (who is described as a young Sandra Bullock-Emma Stone type).
Auden in Charlotte: Ryan Murphy said on Twitter that we would see who Bloody Face would be reveled in this week's episode of AHS. Can you give us any hint at all as to who it is?
All we can say without totally ruining the American Horror Story surprise is that Bloody's Face's reveal is intertwined with another central storyline. And when you find out what he or she has planned for their new victim, you will probably never stop shuddering. 
Heather: I am SO over Ted & Robin. Will this saga of them continue or will Ted FINALLY move on?
While there will be plenty of Barney and Robin goodies in the next couple of episodes of How I Met Your Mother, Ted dumping Victoria for Robin's friendship is definitely something that has set the tone for the rest of the season and will continue to impact Robin and Ted's relationship. But c'mon, we all know that Barney and Robin are endgame, right? Now if only Ted would just meet the damn mother...
Felicia: Anything on Grey's that isn't about MerDer. I love them but I'm interested in other scoop.
You're in luck, because we have scoop on a new team member joining Seattle Grace. Matthew is a handsome guy with a warm sense of humor in his mid-30s, and he'll be around for at least three episodes. That's plenty of time to romance...somebody. Or it's enough time to make us fall in love with his character before he is tragically killed off, making us cry tears of grief. All normal for Grey's Anatomy.
Louisiana: Any scoop about Bones please? I want to know what is going to happen. Thanks!
Ready to meet Mamma Bones? Yes, we know she's dead, but we will be meeting Bones' mom in an upcoming episode, and the twist doesn't involve a flashback. That's all we can spoil at the moment, so move along! Nothing more to se here.
Melissa in Omaha: Gimme something on Castle that doesn't have to do with the couple's relationship.
As you wish! The 12th episode of the season, entitled "Under the Influence," finds Beckett and Castle on the case of a murdered DJ. Among their list of suspects: Regina Cane, a fading pop star desperate to stay in the spotlight; an image-conscious rapper named Bone Thug; and an orphaned 14-year-old street kid with a growing rap sheet. Look for Esposito, who didn't exactly have the easiest upbringing himself, to take a special interest in helping out the troubled teen.
Sonoma in Boston: Got any Don't Trust the B---- in Apartment 23 scoop?
Yep—it's flashback time, kids! An upcoming episode of the ABC comedy will reveal how a pre-teen June dealt with her first big heartbreak in 7th grade. It seems our girl's still a bit scarred by the breakup which is why she goes back home to Indiana to confront her ex—who's now married with a kid—and finally get a little closure. Look for the tense reunion to go down in, of all places, a Red Lobster bathroom. Meanwhile, James is hired to shoot a commercial for Japanese sunglasses, which just happens to be directed by Chloe's sorta-boyfriend, Benjamin, who may or may not wind up suffering an injury that requires medical attention.
—Additional reporting by Jenna Mullins, Tierney Bricker & Shawna Malcom

Want your TV questions answered in our next Spoiler Chat? Email them to tvdiva@eonline.com or tweet at @KristinDSantos!