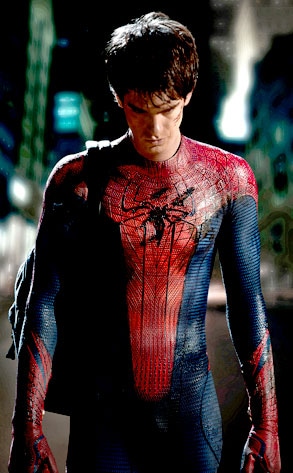 John Schwartzman/Columbia Pictures
Our spidey sense is tingling, and we have an inkling why: The Amazing Spider-Man star Andrew Garfield is literally ready to swing back into action!
E! News snagged the web-slinging star at the Worldwide Orphans gala in New York City Tuesday night to chat about the flick's highly anticipated sequel, which reteams the 29-year-old actor with director Marc Webb and hits theaters in 2014.
Judging from the hints Garfield dropped, expect to see a deeper focus on his character Peter's Parker's complex psyche, as well as a welcome spiff-up to Spidey's snazzy costume—for one very practical reason.
"The suit is undergoing a redesign because I couldn't urinate in it last time," he playfully quipped. "So I'm less nervous 'cause that's gonna be nice."
Good to know—can't have Spidey stalling at the potty in between saving lives!
For this second go-round, Garfield cops to being less nervous, given that The Amazing Spider-Man's massive $752 million global haul proved that it was possible to successfully reboot the blockbuster franchise just five years after Garfield's predecessor, Tobey Maguire, hung up his red-and-blue tights.
"I feel really excited," Garfield says. "I feel like we got over a hump with our first one. We had to reinstate the character, and we had to reinvigorate an audience to the character. And I hope to bring more of this theme—the theme of the orphan."
Which can only mean one thing: a richer, deeper psychological territory to mine.
"I wanna keep exploring that theme of being fatherless, being motherless, searching for purpose and finding a purpose within himself, being a self-made man, I guess," he explains.
Preproduction on the sequel is currently under way, with The Descendants breakout Shailene Woodley reportedly in talks to come aboard as a second leading lady alongside Garfield's real-life girlfriend, Emma Stone.
Garfield politely declined to comment on reports that Jamie Foxx is circling the role of zap-tastic villain Electro, but—like his superhero alter ego—he freely admits that he takes his Spidey responsibilities pretty seriously.
"It is a responsibility to play that role, and I don't take it lightly," he says. "I think there's so much to explore with that mythology and within the tension between living a double life, struggling with being good, struggling with choosing good behavior over bad behavior, with the pressures of a city on your shoulders."
Expect those pressures to ramp up for Garfield and crew as the sequel inches closer to its May 2, 2014, release date.
Chop, chop, Spidey: We're already bugging out with excitement waiting for it.