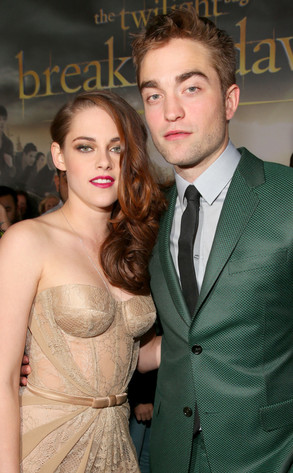 Christopher Polk/Getty Images
Robert Pattinson und Kristen Stewart wissen, was ein guter Auftritt ist.
Die Stars aus Breaking Dawn Teil 2 sahen fantastisch aus, als sie auf dem roten Teppich der Premiere des letzten Twilight-Streifens am Montag in Los Angeles gemeinsam (!) für die Kameras posierten. Stewart trug ein hautfarbenes Spitzenkleid von Zuhair Murad und auch Rob machte in seinem Gucci-Anzug eine tolle Figur.
Das ist der erste öffentliche Auftritt der beiden, die sowohl im Film als auch im echten Leben ein Paar sind, sich aber diesen Sommer trennten (und vor Kurzem wieder versöhnten), als Stewart eine Affäre mit Rupert Sanders, dem verheirateten Regisseur von Snow White and the Huntsman, hatte.