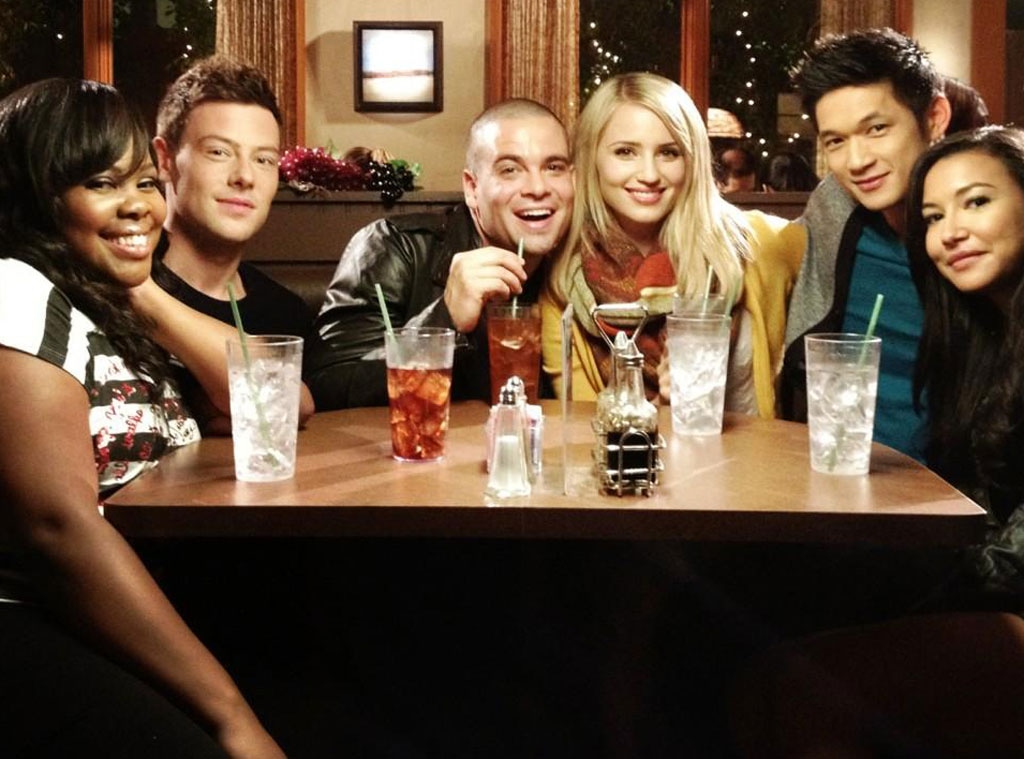 Twitter
She's ba-a-ack!
The original HCIC (Head Cheerio in Charge, duh!) is finally returning to Glee, and we caught up with Dianna Agron to get some scoop on Quinn's first season-four appearance!
Plus, we've also got some teases on your other TV faves, including American Horror Story, Arrow, Sons of Anarchy and more in today's Spoiler Chat...
KelliAnn: Parenthood scoop, please?
Watch out, the po-po is comin'! Things are about to get pretty awkward at the Graham house, when Victor makes a false police report alleging that he has been abused by Joel and Julie. Yikes!
Carmen: Ryan promised a "Faberry Heaven" during the Thanksgiving episode of Glee. Any scoop on the two? I miss seeing Faberry on screen together!
After Quinn's lo-o-ong absence from season four, we think Fabrerry fans will count those two merely glancing at each other as heaven, ya know? But fret not, because we will get much more than that. "You come back seeing a lot of the graduates coming home for the holidays and really interacting with and mentoring the new kids who are trying to fulfill their legacy," Dianna Agron tells us. "And it leaves for some really funny moments and some really touching moments, and I get to sing in that episodes and that's always fun because I'm really trying to grow as a singer." And even better news? Agron is "definitely" set to appear in more than one episode.
Tonia A.: The drama from last week's American Horror Story left me feeling like I needed to be committed. Anything you can tell us? I'm especially curious about Grace.
Kit starts out the episode with a piece of good news, a first for him in Briarcliff. But as usual, his main concern is Grace and Sister Jude's plans to sterilize her. But Grace has other things to worry about, mainly her introduction to Kit's wife. Yes, the same wife that died in the first episode. Obviously there is a twist involved with their meeting, but let's just say Grace and Kit will be closer than ever by the end of the episode.
Paul K.: Sons of Anarchy fanatic over here…can I get some spoilers on this week's episode?
Things are definitely coming to a head on SoA, and the ish is about to hit the fan. Clay is thisclose piecing everything together, and Tara may be headed for some seriously serious trouble. That's doubly serious! And then there's the whole matter of Jax going rouge…phew! SoA certainly knows how to crank up the heat.
Gina in Calif.: I voted my heart out for New Girl's Nick and Jess in your Fall TV Awards. Can I get scoop in return?
If you are a fan of Nick and Jess, then you will be a big fan of tonight's episode. Jess comes down with some serious menstrual cramps, and Nick does something quite sensual to help her out. We won't spoil the scene for you, but it involves water and massaging. OK, we pretty much spoiled it for you but you'll love the Nick and Jess goodness regardless!
Karrie: Got anything on Arrow?
As a matter of fact, we do! In the show's on-target 13thepisode, look for the introduction of a major new recurring character named Halloway. The dude's an imposing CIA black-ops agent who was sent to Lian Yu on a mission that didn't turn out so well and, as a result, now has major trust issues. Which tends to make an already dangerous man even more dangerous. In other words, watch your back, Oliver!
Liz: I know there are still months to go before Mad Men returns for season six, but I need something to tide me over!
We hear you. We've been going through withdrawal ourselves and, trust us, it's about as pretty as a Don Draper hangover. While creator Matthew Weiner is notoriously tight-lipped about anything remotely spoiler-ish, we can tell you that Jon Hamm is back from Hawaii, where he and TV wife Jessica Pare were shooting the season premiere, and is currently preparing to direct the third episode of the season. This will be the actor's second time behind the camera on the Emmy-winning series; he last helmed the season-five premiere, which included Megan's unforgettably sassy rendition of "Zou Bisou Bisou."
—Additional reporting by Jenna Mullins, Tierney Bricker and Shawna Malcom

Want your TV questions answered in our next Spoiler Chat? Email them to tvdiva@eonline.com or tweet at @KristinDSantos!