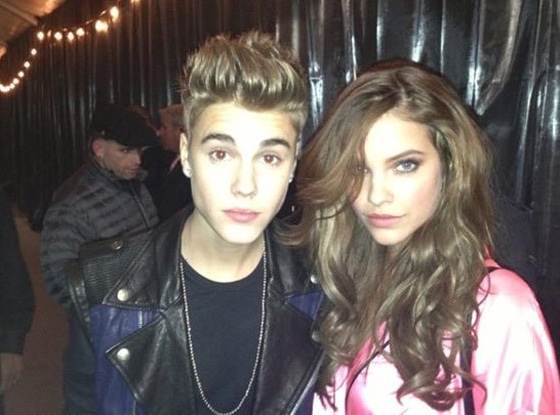 Twitter
Just who is Barbara Palvin?
If you ask Beliebers, she's the Victoria's Secret model who caught Justin Bieber's (allegedly wandering) eye and may have played a role in the breakup of the teen heartthrob and Selena Gomez.
Here are five things you need to know about the smoldering brown-haired beauty.
1. She's Hungarian: Born in Budapest, Palvin quickly caught the eye of model scouts at age 13 and began appearing in various magazine spreads not long after.
2. She's Got the Look: At 5'7" and a size 3 dress, sporting stunning blue eyes and pouty luscious lips, she quickly shone on the runway, making her debut for Prada during Milan Fashion Week in February 2010. Barbara has since gone on to model for Glamour, Elle and Vogue Russia as well as retailers H&M and Armani Exchange, among others.  In February 2012, she signed on as an ambassador for cosmetics giant L'Oreal Paris.
3. She's Well-Rounded: Palvin loves watching soccer on TV and playing it as well, usually taking the field in the striker position, according to her Facebook page. She also likes singing, usually traditional Hungarian folk songs, and moviewise she's a big fan of Japanese anime and mangas.
Dimitrios Kambouris/WireImage
4. She's an Angel: It didn't take long before Victoria's Secret came calling, leading to the catwalker's plum assignment walking the runway at last Wednesday's Victoria's Secret Fashion Show, where she met the Biebs. Of course, rumors began flying that the 19-year-old Hungarian hottie and 18-year-old "Boyfriend" singer were an item after they were spotted out with a group of people seeing The Lion King on Broadway last Thursday night.
5. She Already Has a Boyfriend! While speculation raged among Bieber fans as to the nature of their budding relationship, rumors that Palvin herself shot down on Twitter, Fan Daily reported that Palvin for the past two years has been dating Hungarian business student Kristof Somfai, who by the way happens to bear a close resemblance to Bieber. Setting the record straight, when a Twitter follower asked whether they're still together, on Friday Palvin tweeted, "yes i am!"