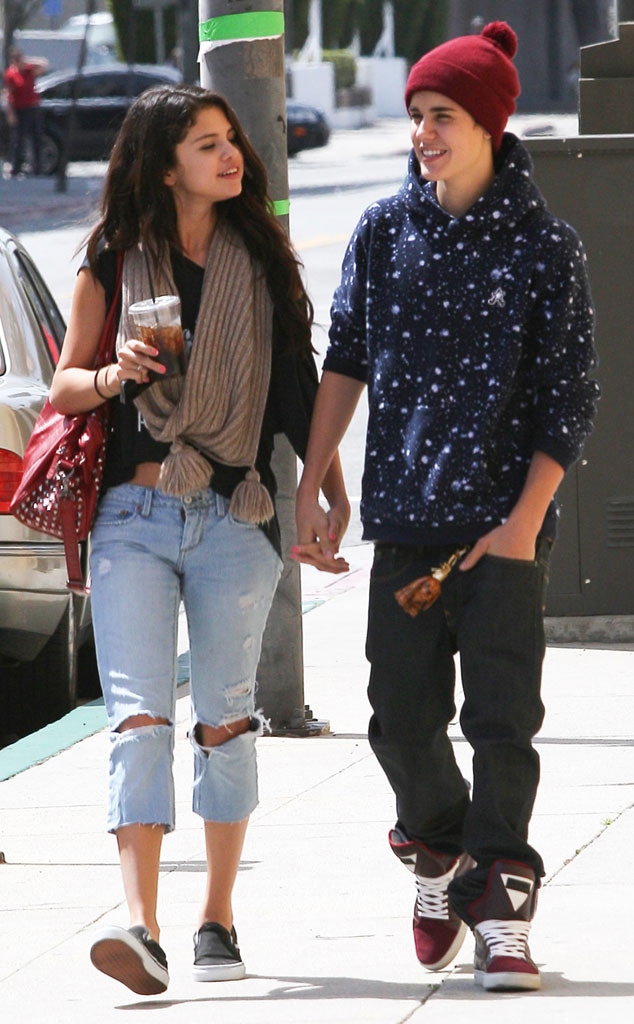 Aik Arshamian/INFphoto.com
Justin Bieber and Selena Gomez are no longer fondue-slinging boyfriend and girlfriend.
Sorry, it's so. (Of course, this also goes to show that you should never stop Beliebin'. Maybe the Canadian pop superstar can now be yours one day.)
The cute-as-a-button couple broke up about a week ago after close to two years of dating and we obviously can't help but wonder why. (Besides always having to be apart for work, the toughness of a long-distance relationship, being super young, etc.)
Here's a look back, from when Justin and Selena first made the scene to when they went their separate ways:
Jan. 27, 2011: Too cute! Justin and Selena see no No Strings Attached—making people wonder if Selena had to buy the tickets to the rated-R flick because Justin's only 16.
Feb. 8, 2011: "She's one of my best friends," he tells E! News about Gomez at the red-carpet premiere of Never Say Never.
Feb. 27, 2011: After being the subject of much more-than-friends speculation, Justin and Selena go public as a couple at Vanity Fair's annual Oscar party. (Irony alert: They're stuck like glue, while Justin Timberlake and Jessia Biel are noted for their meh body language.)
May 23, 2011:  A day after sharing a kiss on live TV during the Billboard Music Awards, the couple jet off to an undisclosed location for a romantic vacay.
June 2011: Selena meets the Biebers! The duo spend time in Toronto with Justin's mom, dad and siblings.
June 5, 2011: They attend the MTV Movie Awards, before which Selena tells us that she's "really happy" with life, including the part where she's dating Justin Bieber. She admits, however, that the constant media scrutiny, er, coverage is "horrible." 
June 10, 2011: Bieber gives up his Stanley Cup finals seats in Vancouver after learning Gomez has been hospitalized with headaches and nausea, proving he's got priorities and they're in order.
June 28, 2011: It's kinda weird that we know this, but Justin and Selena exchanged I-love-yous while shopping at an A|X Armani Exchange in New York.
August 2011: The couple keep going strong in the face of a virulent breakup rumor that caught fire when some guy made a YouTube video ranting about Selena supposedly catching Justin texting his ex, Jasmine Villegas. Then Justin tweeted, "what makes you so beautiful is that you dont know how beautiful you are…to me," further fueling the story that he was trying to make up for something. (Though, in hindsight, he may have been writing a One Direction song.)
August 2011: Artist Daniel Edwards crafts a bronze statue of a nude Bieber and Gomez, calling it "Justin & Selena Forever."
September 2011: Selena performs with "Justin" scrawled on her right wrist—but it's not permanent.
Sept. 23, 2011: After squiring Selena to a Demi Lovato concert, Justin rents out Los Angeles' Staples Center so that they can enjoy a private movie date. They watch Titanic, only the most romantic movie ever—if you like tragically awful endings.
Dec. 7, 2011: Justin's rep shoots down engagement rumors after Selena is spotted wearing what appears to be a diamond ring on that finger. Girls can dream (about having Justin place rings on their fingers), can't they?
Dec. 31, 2011: The couple ring in the new year together in New York after performing respective New Year's Eve gigs.
March 1: Bieber turns 18, yay.
March 31: Gomez admits to us on the Nickelodeon Kids' Choice Awards red carpet that "Boyfriend" is a catchy little ditty.
April 17: The PDA-friendly duo catch a Lakers game and share a smooch for the Staples Center kiss cam.
May: Bieber is rumored to have broken up with Gomez via Twitter after writing-then-deleting, "Thank you for the time I had with you but now I have to move on." Aside from the fact that it would have been really poor form, the story was just untrue. An insider noted that the pair hadn't been photographed together for some time because Gomez had been in Bulgaria shooting a movie. Long distance, you know?
May 27: A photographer claims Bieber got rough with him after he tried to snap a pic of the singer and Gomez at a shopping center in Calabasas. Nothing comes of it, legally.
June: Justin and Selena hit up the VIP room at the West Hollywood hot spot Bootsy Bellows—with Robert Pattinson and Katy Perry!
July 5: They head out for Thai food in the wake of yet another split rumor, this one triggered perhaps because it was a Thursday. Six days later, they're in Tokyo together. Eight days after that, New Zealand!
Sept. 8: Selena brings Justin's little sister and brother to the Toronto Film Festival premiere of Hotel Transylvania.
Sept. 18: "She's good for him and they're great together," Bieber's mom, Pattie Mallette, says on Ellen.
Nov. 1: Selena says in the December issue of Glamour (in an interview probably given at least several months beforehand) that she "adores" Justin's fans and respects their fierce loyalty.
Nov. 8: Victoria's Secret model Barbara Palvin, 19, feels the Beliebers' wrath on Twitter after watching The Lion King on Broadway with Justin. "hey everyone. please calm down. he is all yours!! :) please :)" she tweeted back. Fans of Palvin (and reality) chimed in, too, insisting that the model has a boyfriend and can't be dating the singer.
Nov. 9: E! News exclusively confirms that Justin and Selena have gone their separate ways, with a source telling us it just got too hard for them to maintain a relationshp in light of their equally crazy schedules.
Future: Bieber and Gomez now free to date whomever they want, Twitter critics aside.