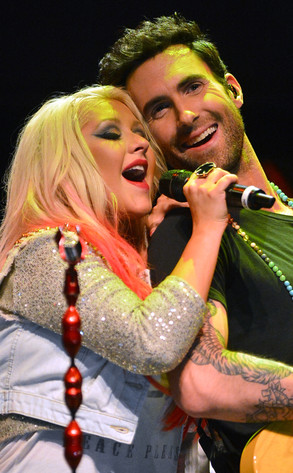 Courtesy: Frazer Harrison/NBC
All work and no play? Not for The Voice judges. Last night, after fulfilling their coaching duties, Christina Aguilera, Adam Levine, CeeLo Green and Blake Shelton took to the stage at the House of Blues in West Hollywood to celebrate their Top 12.
The mentors kicked off a showcase of this season's talent with a performance of Cee Lo's Gnarles Barkley hit "Crazy," a medley of Queen classics ("We Will Rock You" and "We Are the Champions") and ended the set with the Rolling Stone's "Start Me Up"
The coaches, who hit the stage at 9:45 p.m., seemed to be unwinding from the pressures of eliminating eight contestants. Xtina, who donned leopard-print leggings and a white half-jacket, brought along a signature mic stand made up of bright red lips and strutted around the stage while Blake sipped on a red beverage between verses. Classic Blake!