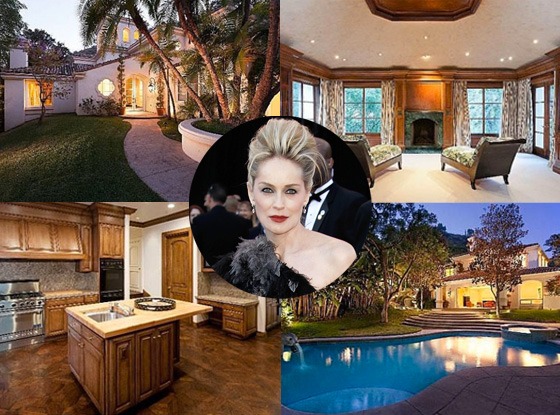 AP Photo/Matt Sayles, Courtesy: MLS
It's hard to believe a gorgeous house like Sharon Stone's Mediterranean-style estate sat on the market for any amount of time—but it actually took years (and some pretty hefty price reductions) before the A-list actress found the perfect buyer.
Originally listed for $12.5 million in 2006, the 7-bedroom, 8.5-bath estate boasts 5 acres featuring lush landscaping, bridges, waterfalls, fruit trees, a meditation garden, swimming pool and a tennis court with its own viewing pavilion—and even all of that wasn't enough to bring in a buyer.
The Total Recall actress then dropped the price to $9 million in 2009, which, amazingly enough, still didn't help her secure a sale.
Stone finally unloaded her home at an almost 50 percent price reduction, closing the deal just a few days ago for $6.6 million.
So, what's next for the A-list actress? Is Sharon ready to leave the famed Beverly Hills 90210? Not quite—in fact, she owns another "humble abode" in the same zip code! The house, which Stone purchased for $3.25 million in 1995, is the perfect place for the blonde bombshell to crash until she's ready to make her next move!