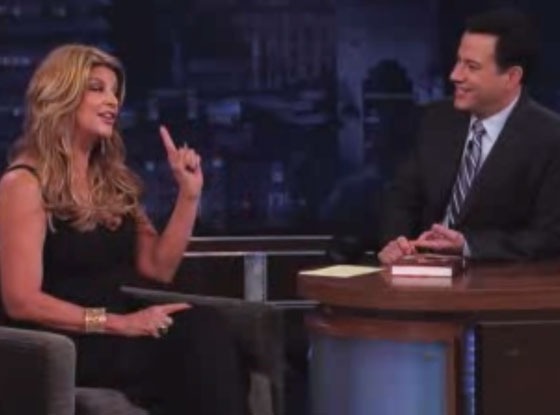 Youtube
Kirstie Alley is setting the record straight about her sex life—and the two men whom she's said have meant the world to her.
Appearing on Jimmy Kimmel Live last night to promote her new tell-all, The Art of Men, the erstwhile Cheers star opened up some more about the nature of her relationships with Patrick Swayze and John Travolta, the latter of whom she recently admitted was the "greatest love of my life."
"Can I just clarify, they were not sexual affairs," the 61-year-old Alley said when asked by the funnyman about her feelings for her former costars. "I think John Travolta is and has remained one of my best friends for almost 25 years, 26 years…before he was married and I was married. But I fell in love with him."
Kirstie, of course, worked with John on 1989's hit Look Who's Talking and its sequels, an onscreen partnership that eventually "evolved" into the "most brilliant friendship" offscreen and one that has seen her become BFFs with Travolta's wife, Kelly Preston.
"Did you fall in love with him or did you fall in love with each other?" asked Kimmel.
"I'd say it was even steven," Alley confessed. "And you know that's not a good thing to do. The only good part of it is I didn't turn it into a sexual relationship, which is really good. Because for me if I have sex with someone, I have to marry them."
She wisecracked: "My mother told me I would be a whore if I didn't marry someone I had sex with, so I was trying not to be a whore."
But regarding Swayze, with whom she costarred in the 1985 miniseries North and South, Kirstie said: "Once you have sex with somebody else—I thank God I'm not that girl. But I wrote this story because it's about men who influenced my life that I really love deeply…I'm proud of us. We chose not to."
The Dancing with the Stars hoofer also pointed out that she never cheated on her then-husband Parker Stevens, but did tell him about her feelings for her fellow leading men, noting that they spend so much time together on film sets "it's a little hard to confuse the boundaries."
She was quick to add that that goes for her dance partner on DWTS too (here's lookin' at you, Maks!).