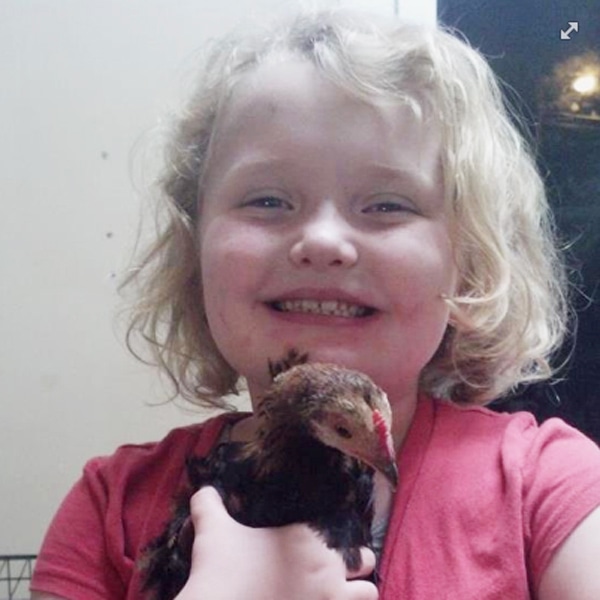 Facebook
Now that Honey Boo Boo has a pet chicken named Nugget, People for the Ethical Treatment of Animals has a request for TLC's 7-year-old reality star.
Don't eat him!
The animal rights organization sent a letter to Honey Boo Boo, aka Alana Thompson, in which they praise the fowl creatures and offer up an alternative name for her beloved birdie "in order to honor her as your friend and protect other chickens just like her."
"As I'm sure you are learning from your chicken, chickens are smart, interesting animals with personalities of their own," reads the letter written by PETA rep Michelle Cho and obtained by E! News exclusively.
After describing some amazing-sounding attributes of the birds—they have good memories, know basic math and mother chicks "talk" to their offspring by clucking at them while they're still in the egg, according to PETA—the group suggested Honey Boo Boo consider changing Nugget's name to "Not a Nugget" after PETA's youth outreach mascot to "let your fans know that they should be nice to chickens by not eating them."
"But don't worry! You won't have to give up 'chicken-nugget power," continues Cho. "There are yummy vegan-chicken nuggets in grocery stores today that taste just like meat, except no chicken had to die to make them."
To that end, PETA says it's sending the former Toddlers and Tiaras star a free sampling of some healthy veggie-chicken nuggets along with a t-shirt of a cute chicken saying, "I am not a nugget."
No word what Thompson or her mama June Shannon think about the offer. A rep for the Here Comes Honey Boo Boo star declined to comment.