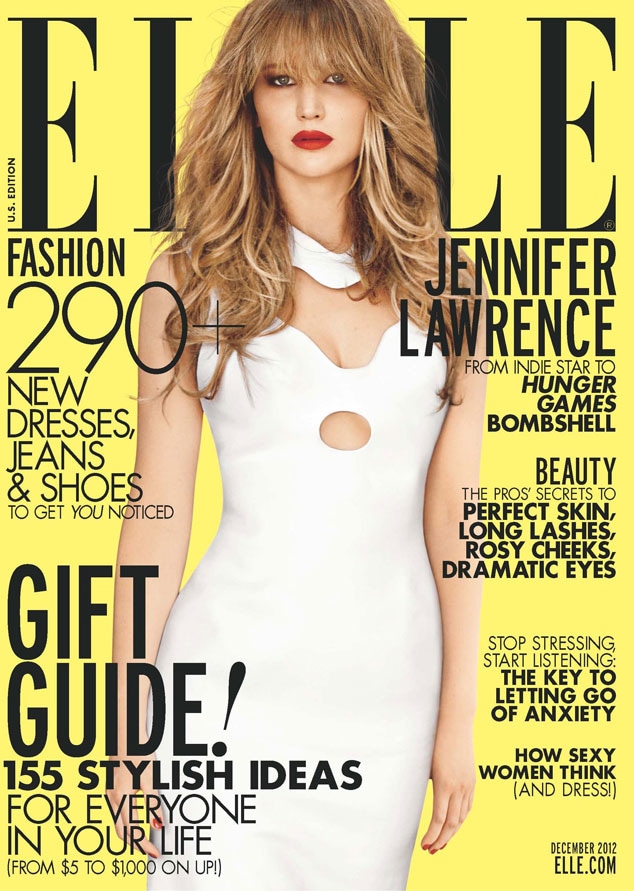 Carter Smith/Elle Magazine
Jennifer Lawrence is waging a war against Hollywood's unattainable body standards, one sought-after curve at a time.
And while the Hunger Games star has one of the hottest and healthiest bods in town, don't expect her to turn into one of those shrinking starlets.
When it comes to her figure and her opinions.
"In Hollywood, I'm obese," Elle's stunning December cover girl told the magazine. "I'm considered a fat actress."
We disagree, of course. But not with that sense of humor of hers.
"I'm Val Kilmer in that one picture on the beach."
Which, incidentally, seems to be just fine by this budding role model.
"I'm never going to starve myself for a part...I don't want little girls to be like, 'Oh, I want to look like Katniss, so I'm going to skip dinner'...I was trying to get my body to look fit and strong—not thin and underfed."
Mission accomplished, we'd say.
As for Jennifer, it wasn't all body talk with the magazine. The 22-year-old also briefly discussed her relationship with fellow thesp Nicholas Hoult.
"[He] is honestly my best friend too," she said. "He's my favorite person to be around and makes me laugh harder than anybody.
"We can eat Cheetos and watch beach volleyball and we turn into two perverted Homer Simpsons, like, 'Oh, she's got a nice ass.' I never thought we'd have such different opinions on asses."
Well, you know what they say: Opposites attract.