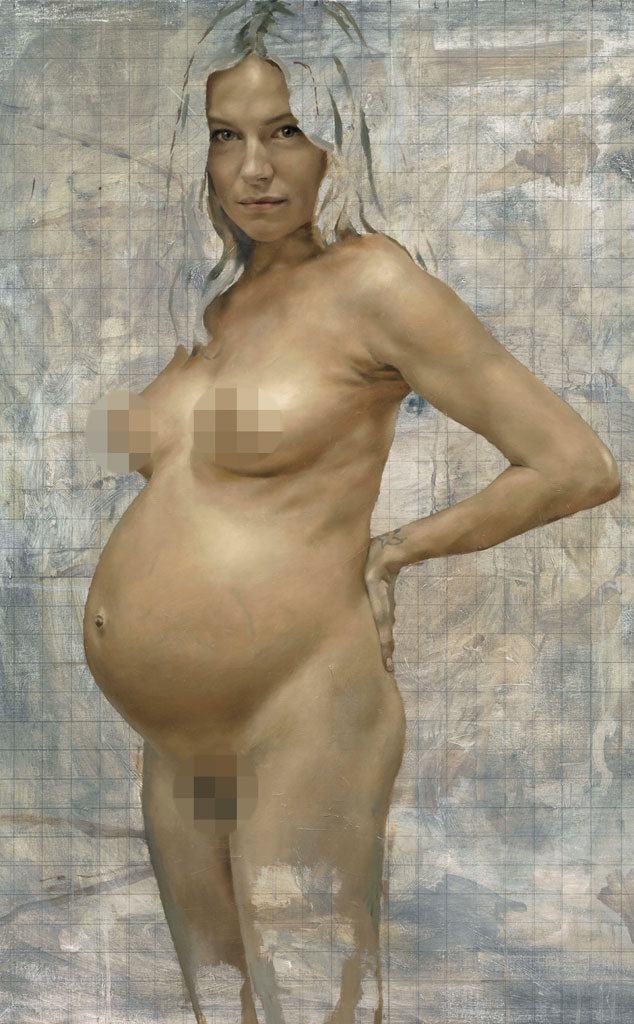 Jonathan Yeo/ jonathanyeo.com
Sienna Miller joined in on Hollywood's naked and pregnant trend!
But instead of stripping down and baring her baby bump for a magazine photo shoot, the actress had her portrait painted by Jonathan Yeo just weeks before giving birth to daughter Marlowe this summer.
Yeo's portrait of the 30-year-old Case of You star is part of his forthcoming (I've Got You) Under My Skin exhibition at the Circle Culture Gallery in Berlin. 
"I wanted an image that epitomized the human body in its most naturally beautiful state to make the sharpest possible contrast with my other paintings in this exhibition, which document patients undergoing cosmetic surgery in a bid to help them conform to societal notions of beauty," the artist said in a catalogue for the exhibition. "It made sense to me to unveil this image for the first time in Germany, a country with a very relaxed attitude to nudity, where it is not automatically sexualized or deemed scandalous."
"It has been 22 years since a pregnant Demi Moore caused uproar by posing for Annie Leibovitz on the cover of Vanity Fair," he added. "In that time society has become almost completely desensitized to the daily exposure to people who have surgically distorted their appearance for artificial reasons. Yet certain sections of society are still uncomfortable with the appearance of pregnancy and images of naked expectant mothers are rarely seen."