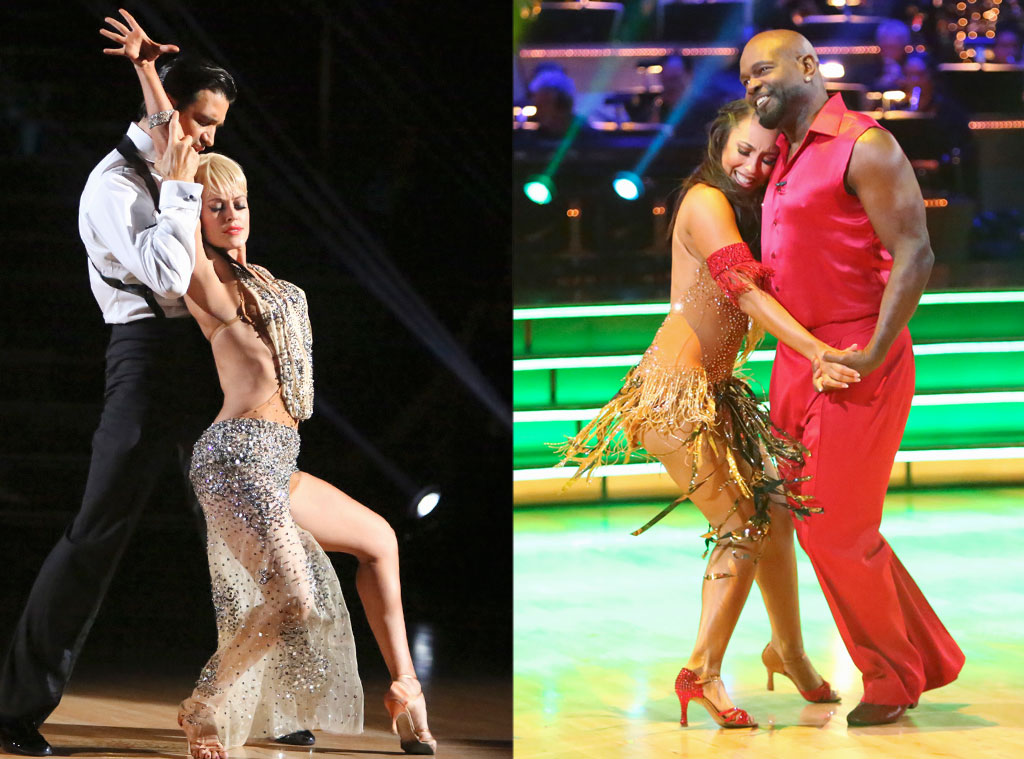 Adam Taylor/ABC
It's anybody's game on Dancing With the Stars!
Now that the remaining seven all-stars have learned that scores don't necessarily matter, it's all about—to use a little election-year speak—appealing to the base.
Meaning, there's nothing left for Kirstie Alley, Kelly Monaco, Emmitt Smith and the celebs who have struggled so far this season to do but charm the pants off of their fans! 
But tonight, before the marathon swing dance, the all-stars were tasked with the ridiculous-sounding (and, it turned out, ridiculous-looking) fusion round—two styles of dance to the same piece of music.
Apolo Anton Ohno and Karina Smirnoff, coming off a close shave despite being tied for first place (with Sabrina Bryan and Louis van Amstel, who were inexplicably eliminated), kicked off the night with a fusion of cha-cha and paso doble that left them firmly in the middle of the pack.
Though the bottom of the rankings was the safest place to be last week, Kirstie and Maks Chmerkovskiy could be in trouble after their quickstep-samba hybrid, which, to be fair, had to have been the toughest assignment of the night.
"Only you could turn Cinderella into a stripper," noted Bruno Tonioli, a nod to the chambermaid outfit Kirstie wore that was far too frumpy for the samba portion of the routine.
Both Maks and Val Chmerkovskiy lived in New Jersey and New York after coming to the United States from Ukraine—and Maks owns several dance studios in the tristate area—and they were seen boxing up relief supplies and doing their part to help the victims of Hurricane Sandy.
"It's my childhood. This is the place that Americans introduced me to, where I grew up and a lot of my opportunities began," Val said in entreating the fans at home to do whatever they can.
Meanwhile, Val did what he could to get Kelly from fox-trot to cha-cha mode in the blink of an eye. He succeeded, with Kelly's only big flub coming when she lost her balance for a split second toward the beginning of their fox-trot.
Emmitt, aka the Pink Panther, fared much better. Dressed in head-to-toe hot-pink, he and Cheryl Burke had a relatively clean transition from rumba to samba—although the brightness emanating from their outfits made their moves a little tough to distinguish at times.
Melissa Rycroft and Tony Dovolani (whose wife and kids are also back East) were coming off a week where they were a half-point away from perfection and yet still ended up in the bottom three alongside two couples who were perfect.
The confusion didn't end when they were tasked with a tango-cha-cha hybrid, but they continued to be one of the best couples out there. "You are a star!" raved Carrie Ann Inaba, loving Melissa's transition from "super sexy dominatrix woman" into perky cha-cha dancer.
With Derek Hough nursing a neck injury, Shawn Johnson turned to Mark Ballas, her partner in season-eight victory, to keep her ahead of the curve—and Carrie Ann praised them for being the poster children for fusion dance, whatever that is!
"I'm an Englishman, so I can't vote tomorrow but I'm voting for you," Len Goodman said approvingly. Here's hoping their first perfect score of the season doesn't equal an automatic berth in the bottom three!
The judges also raved about Gilles Marini and Peta Murgatroyd's Argentine tango-samba routine, which, not surprisingly, was intense and polished. 
But, minus Kirstie and Maks in last place, no one remained where they were heading into round two after the swing dance marathon was over!
Gilles and Peta were second to be eliminated, allowing Emmitt and Cheryl and Kelly and Val to pass them. Melissa and Tony then won the whole thing, meaning they finished the night in first place.
May the finicky voters have mercy on their dancing souls.
Here's how the final leaderboard stacked up, including both routines:
Melissa & Tony: 29, 10 (39)
Shawn & Mark: 30, 8 (38)
Kelly & Val: 27, 9 (36)
Emmitt & Cheryl: 27.5, 7 (34.5)
Gilles & Peta: 28.5, 5 (33.5)
Apolo & Karina: 27, 6 (33)
Kirstie & Maks: 24, 4 (28)
To aid the storm relief effort, text REDCROSS to 90999 ($10 donation) or visit redcross.org