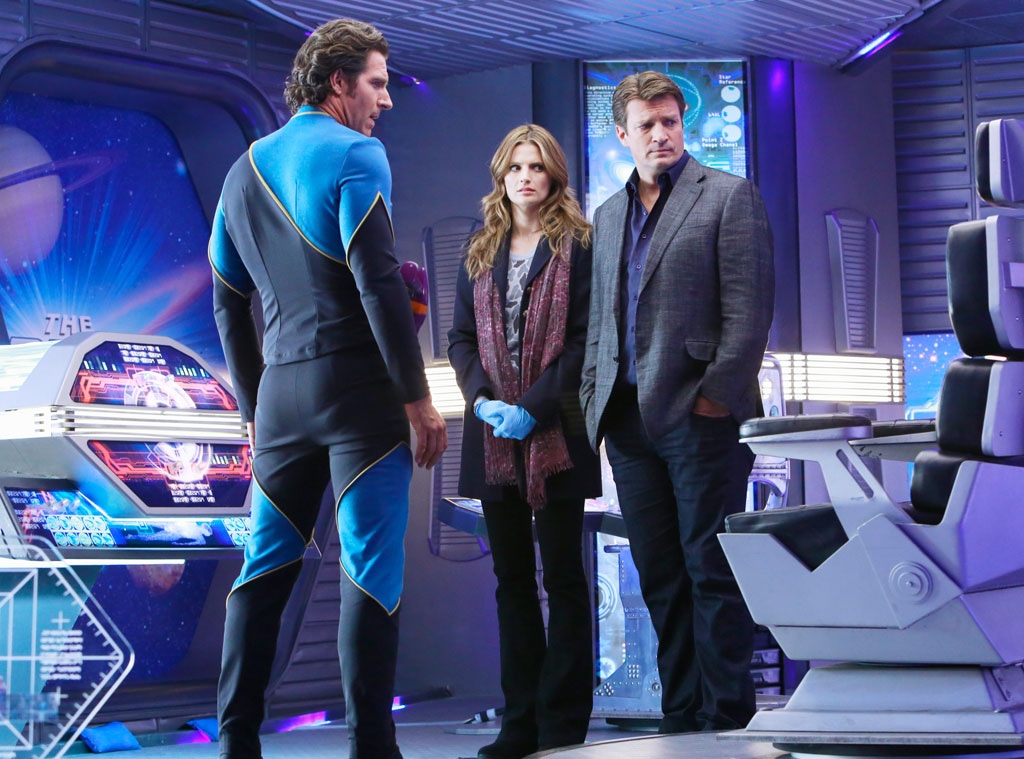 ABC/RON TOM
Forget the gritty streets of Manhattan. Tonight, Castle (Nathan Fillion) and Beckett (Stana Katic) must trek to a galaxy far, far away—a sci-fi convention!—to crack their latest quirky case. Take it from us: The episode, entitled "The Final Frontier," is not only one of the season's best yet, it's also chock full of inside jokes and at least one moment that "Caskett" shippers won't soon forget.
 Here, five more tasty morsels to chew on:
1. It's a Must-See for Fillion's Firefly Fans: That's because it pays clever tribute to the actor's short-lived but still beloved Fox drama. Like Firefly, Nebula-9—the fictional sci-fi show at the center of the episode—was cancelled more than a decade ago after just 12 episodes, yet still retains a passionate cult following. The name of Nebula-9's wise-cracking captain? Max Rennard, which sounds an awful lot like Fillion's Mal Reynolds, no? Kinda like how Firefly's flesh-eating baddies were known as the Reavers, and Nebula-9's are...the Creavers. 
2. The Ep Begins Aboard a Spaceship Moments Before an Impending Alien Attack: Or at least that's how it seems. In fact, the scenario is all part of a fan experience at Comic-Con, er, SuperNovaCon, in which Nebula-9 lovers, clad in the show's crew costumes, get to act out a favorite scene from the fictional show, alongside one of the series' stars. But the re-enactment takes an all-too-real turn when a dead body is discovered on the ship's set and Beckett and Castle are called in to investigate.
3. Beckett Gets Her Geek On: Turns out the oft-tortured New York cop was a major Nebula-9 fan in college, which explains why she becomes uncharacteristically starstruck upon meeting its actors at the convention. Look for Castle to give his girlfriend a hard time about her TV guilty pleasure. "I like good sci-fi," he teases her at one point. "Star Trek. Battlestar. That Joss Whedon show."
4. Keep Your Eyes Peeled for Jonathan Frakes. That's right: Jonathan Frakes, the sci-fi icon, who played Star Trek: The Next Generation's Commander Riker, is not only the episode's director, he's its best cameo! Its Number One, if you will. 
5. Expect Out-of-This-World Plot Twists: We've got eight words for you: laser gun, a glowing hand and sexy cosplay. One of these plays a pivotal part in the episode's closing chapter. We'll leave it to you to guess which frakkin' one!
Castle airs on ABC tonight at 10 pm.