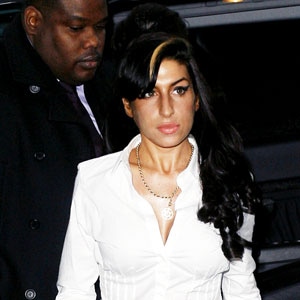 Neil Mockford/Getty Images
Whoever did this is no good.
Two of Amy Winehouse's outfits, one of which was the dress she wore when she married Blake Fielder-Civil in Miami in 2006, have been stolen from the North London home where the songstress died.
Amy's father, Mitch Winehouse, confirmed the unfortunate news to Britain's The Sun newspaper, saying the clothing—valued at around $210,000—was due to be auctioned off to raise money for the Amy Winehouse Foundation.
But whoever committed the theft, Mitch said, knew exactly what they were looking for when they entered the house in Camden, which was turned into a shrine by fans in the wake of the "Rehab" singer's death in July 2011.
"It's sickening that someone would steal something in the knowledge of its sentimental value," the 60-year-old Winehouse said.
The other missing frock was a newsprint cocktail dress his daughter wore when she appeared on the BBC show Later…With Jools Holland. It was expected to fetch $48,000 at auction, while the wedding dress was projected to sell for $161,000.
Those plans are now kaput after the break-in, which occurred during a brief two-day window when many of Winehouse's possessions were being catalogued for storage.
"A few people were involved, and there was some coming and going," Mitch noted. "We're going through everything else to see what else, if anything, has been lifted."
He also added that he was surprised the thieves didn't take some other designer dresses that were actually way more expensive.
So far, police are investigating but have no suspects.