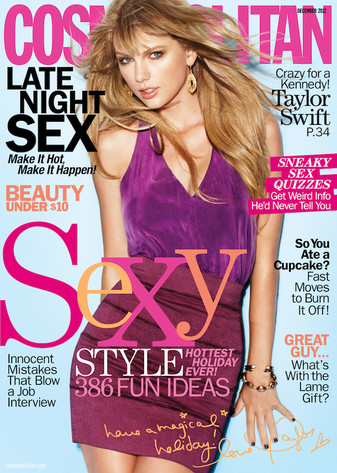 Cosmopolitian
We won't say Taylor Swift is difficult to date...but she is quite particular.
In an interview with Cosmopolitan's December issue (on stands Nov. 6), the 22-year-old "Red" songstress laid out the dos and don'ts of being her boyfriend.
"I can't deal with someone wanting to take a relationship backward or needing space or cheating on you," she said. "It's a conscious thing; it's a common-sense thing...I just don't ever want to end up in a relationship that isn't fair ever again."
The country-pop star, who recently split with 18-year-old Conor Kennedy, said she "[needs] that unexplainable spark" in a relationship. "I just need to see someone and feel Oh, no, uh-oh. It's only happened a few times in my life, but I feel like if I was gonna be with someone forever, it would be because I saw them and I thought, Oh, no."