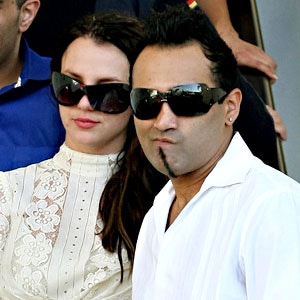 Fame Pictures Inc
Another blast from Britney Spears' past took the stand today.
Paparazzo Adnan Ghalib, who said his "romantic relationship" with the pop star began in December 2007, testified that he didn't trash Sam Lutfi to Britney's mom, Lynne Spears, by telling her that Lutfi would sometimes hide her daughter's dog and cell phone in an effort to manipulate her.
Lutfi is suing Britney and her parents for defamation over Lynne's memoir, Through the Storm: A Real Story of Fame and Family in a Tabloid World, which states that Ghalib—who was called as a witness by Lutfi's attorney—told her those things.
On cross-examination, Ghalib recalled that, when he was hanging out with Britney, around 30 photographers would follow her on a daily basis. A paparazzo himself, he said that he never received a text from Lutfi alerting him to Britney's whereabouts.
Lutfi himself admitted to briefing photographers via text in an attempt to lend some order to the frequently disorderly proceedings.
As they did with Lutfi, Ghalib said, Britney's parents served him with a restraining order after establishing a conservatorship for their daughter's estate.
Asked what it was like being on the stand and seeing Jamie and Lynne Spears today, Ghalib told E! News, "Not good." 
"The judge had instructed the attorney not ask certain questions he had prepared," he said, referring to why he spent a relatively brief amount of time on the stand.
Also not good: When he was finished testifying, Ghalib was served at the courthouse today on behalf of Spears' conservatorship, which is looking to recover roughly $11,500 in legal costs from taking out the restraining order against him in 2009, E! News can exclusively report. He's due in court Nov. 15 for a hearing on the matter.
Ghalib had no comment on that sudden—for him, at least—turn of events. A source told us that Ghalib was completely unaware that he possibly owed Britney's conservatorship money.
Next up was Britney's father, Jamie Spears, who testified that he never struck Lutfi, who is also demanding damages for alleged battery suffered at the hand of Britney's dad after one of his daughter's emotional episodes.
Jamie denied being "spitting mad" at Lutfi or chasing him around the bar when he came to Britney's house on Jan. 28, 2008, and he also denied coming back the following morning, when Lutfi alleged Spears hit him. (Britney was hospitalized on a psychiatric hold—her second that month—on Jan. 31, after which the conservatorship was formed.)
X17online photographer Filipe Texeira testified that there was always a mad scene around Britney, paparazzi-wise, until Lutfi came along. After Britney's so-called manager came onto the scene in August 2007, Lutfi would text him and others about Brit's comings-and-goings so long as they followed certain rules.
Once Lutfi intervened, Texeira said, the paps stopped speeding and running red lights, stopped following Britney into stores and otherwise stopped breaking the law.
Lastly, entertainment lawyer Max Sprecher was prevented from testifying after the Spears family's attorneys challenged his validity as an expert witness on artist-management procedure and Lutfi's attorney couldn't prove otherwise, after which he rested their case.
Before anyone takes the stand on behalf of Britney and family, their attorneys will be filing motions to have parts or all of Lutfi's lawsuit dismissed. 
He is also alleging breach of contract, saying he's owed money—he claims Britney agreed to pay him 15 percent of her income for being her manager—for the time he worked for her.
A hearing on the motions to dismiss is scheduled for Thursday at 1:30 p.m.