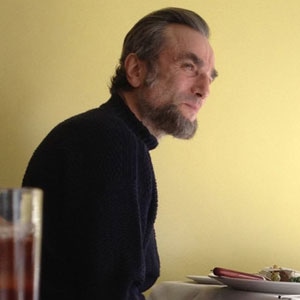 Twitter
He may be gearing up to do some honorable deeds onscreen in Lincoln, but Daniel Day-Lewis is proving to be quite the altruistic chap in real life.
The 55-year-old is donating works by his late poet father, Cecil Day-Lewis, to Oxford University, per The Guardian.
Cecil, who was named the U.K.'s poet laureate in 1968 and who died four years later, was a professor at Oxford. The sprawling documents, packed into more than 50 boxes, include correspondence with luminaries like W.H. Auden and Alec Guinness.
They also include one particular literary gem: a poem commemorating the birth of son Daniel.
Yep—we'd say that Daniel's celebrated career and two Oscars made good on that promise.
Here's what else went down last night:

Tased and Confused: Tom Cruise has decided he will not press charges against Jason Sullivan, a neighbor who, according to police, jumped the fence around Cruise's Beverly Hills property Sunday and was arrested for allegedly trespassing after getting taser-zapped by security before officers arrived.
Sandy Stormwatch: The massive storm named Sandy that has taken over the East Coast has caused a lot of Twitter chatter (and then some more Twitter chatter), nightly show fallouts, Alec Baldwin bravery, odd behaviors, a sad hit to the Jersey boardwalk and is reportedly gearing up for the Hamptons. 
Robsten Update: No, it's not another reunion. In fact, Kristen Stewart was spotted without Robert Pattinson (who just so happened to have scored a deal with Dior). 
Engagement News: Vampire Diaries star Kat Graham got engaged to fellow actor Cottrell Guidry. 
TV Land: Get caught up with last night's The Voice and Dancing With the Stars recaps (don't forget our backstage scoop). Also, Scandal has been renewed for another season, and, unfortunately, The Office spinoff was not picked up.
Would you like to help the hurricane victims? Text REDCROSS to 90999 ($10 donation) or visit https://redcross.org .