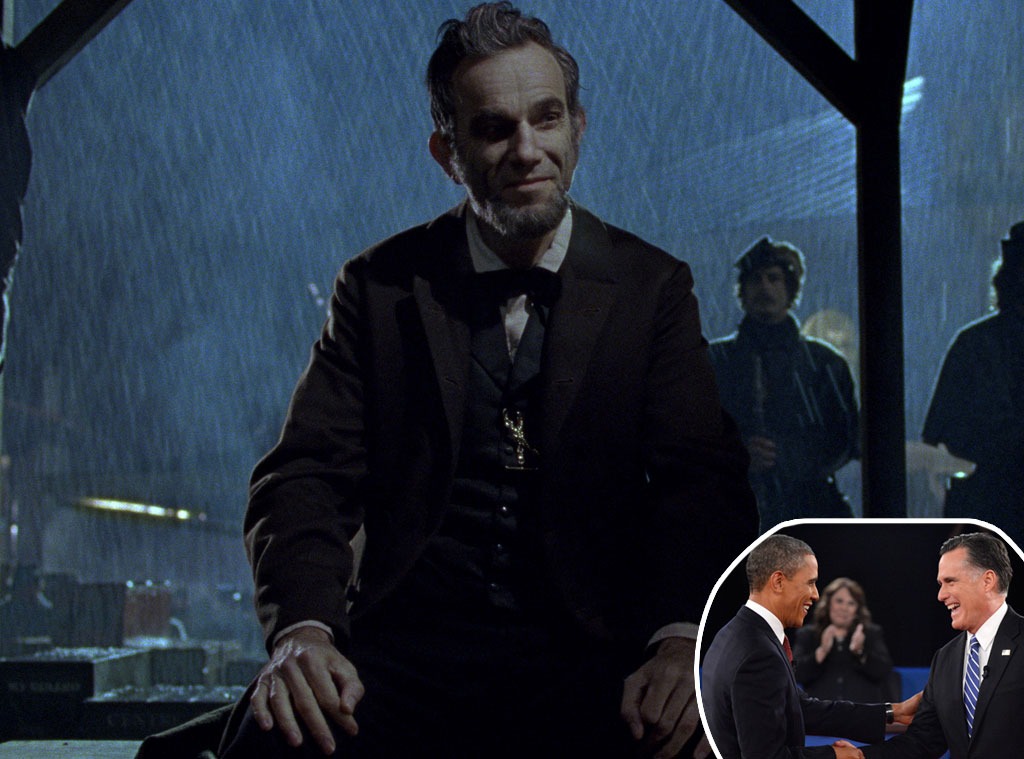 DreamWorks; Getty Images
If you aren't getting enough politics courtesy of the 24-hour news cycle to last a lifetime, fear not! Some other famous White House inhabitants will be coming to movie theaters on Nov. 9 in the form of Lincoln, the Steven Spielberg-directed film starring Daniel Day-Lewis.
But the legendary auteur wants you to know that his film has nothing to do with President Barack Obama and Mitt Romney's current election: "I would have been very happy to have made Lincoln in the year 2000," Spielberg explained at the film's junket. "We were ready to make it in the Bush administration."
"People say, 'Oh, you made it because what's happening in politics today!'" he continued. "It has nothing to do with the current politics. It has nothing to do with holding a mirror up to the way we conduct our business on Capitol Hill today. This was meant to be a Lincoln portrait, if you will. I think anytime is the right time for a really compelling story."
The delay from idea to release, Spielberg explained, was due to Doris Kearns Goodwin needing time to write the book the film was based on, needing even more time to craft a screenplay from that book, and then locking Day-Lewis in for the titular role (Spielberg claims he wouldn't have done the film if Daniel had said no).
As for the reports that Steven wanted to hold the release of the film until after the current election was done, he admits, "There's a lot of confusion about—the political ideologies of both parties have switched 180 degrees in 150 years. It's just too confusing with everybody claiming Lincoln as their own."
"I just wanted people to talk about the film, not talk about the election cycle," he revealed. "So I thought it was safer to let people talk about the film during the election cycle, but the actual debut should come after the election's been decided."
Still, Spielberg knows that discussion of his film is destined to get intertwined with election coverage. And he's prepared for that. "Of course!" Spielberg cried when asked if he was interested in how people would interpret his film in the current political landscape.
"There are tremendous similarities between politics then and politics today," he pointed out. "I'm really excited to see how deeply people will reach to contemporize our film far beyond how it deserves to be contemporized."