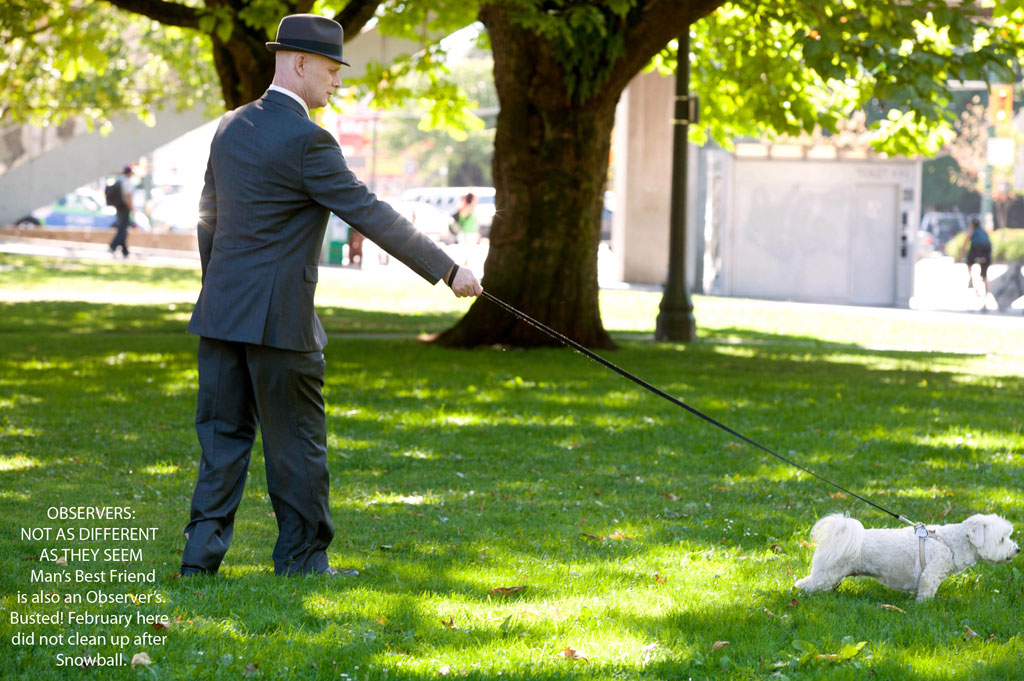 FOX
The Observers…they're just like us?
At least that seems to be what Fringe's bald baddies want us to take away from a series of new paparazzi-style shots that find the dictatorial rulers showing off a—gasp!--decidedly more human side. In these exclusive shots, an Observer named February, sporting the group's trademark dark suit-and-fedora uniform, is seen taking time out from his mind-reading, carbon monoxide-poisoning duties to casually check out some photo-booth snaps, walk his pup Snowball and ride a retro bike, apparently en route to the office (check out the briefcase). It seems even futuristic tyrants capable of seamlessly traveling through seven dimensions still love getting around old school-style every once in awhile.  
 While the photos are totally priceless, we can't help but wonder what freedom fighters Peter (Joshua Jackson), Olivia (Anna Torv), Walter (John Noble) and Etta (Georgina Haig) would make of the Observers' transparent attempt to grab a little good publicity.
Fringe returns with an on-target episode tonight entitled "The Bullet that Saved the World," a can't-miss installment that finds our beloved Bishops drawing ever closer to solidifying a plan to defeat the creepily-calm tyrants and reclaim our future world. It's a game changer, folks. Seriously. Don't miss it.
Fringe airs at 9 pm on Fox.