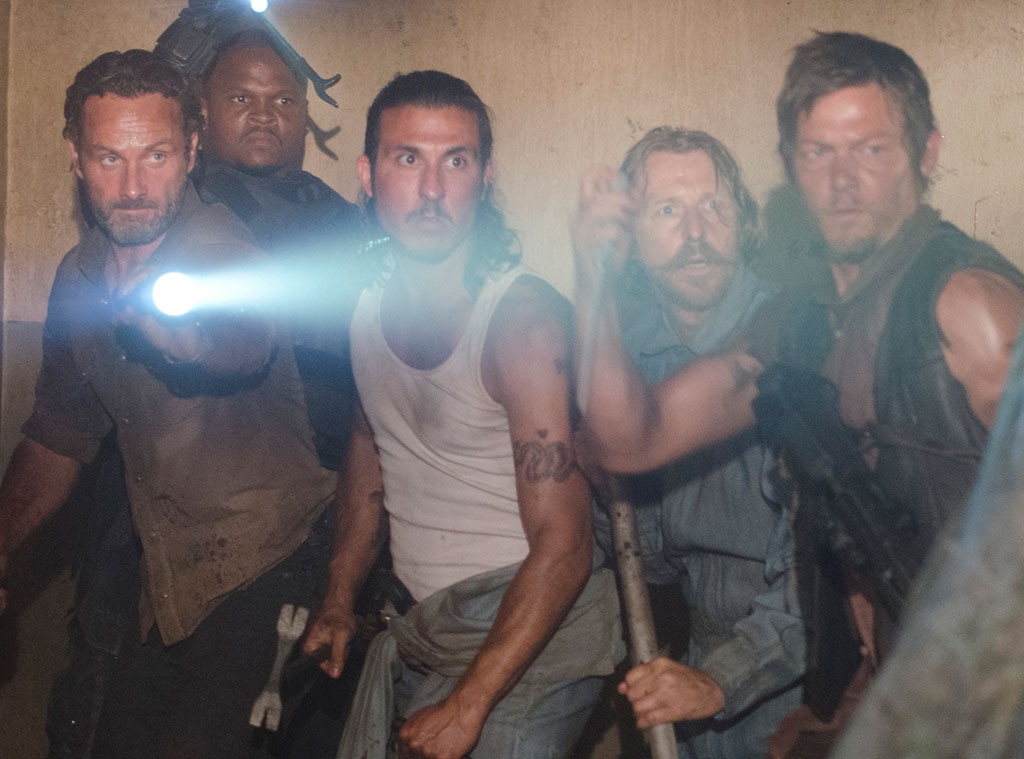 AMC
Need a little push to fully get into the Halloween spirit? How about some scoop on one of TV's spookiest offerings? 
We've got all the dirt on The Walking Dead's all-new episode this Sunday in today's Spoiler Chat, plus juicy treats on Revenge, which will be introducing someone from a character's past, a new love interest on Hart of Dixie, as well as scoop on Mad Men, Breaking Bad and more!
Tara: Dying for Grey's scoop! Will Derek ever be able to use of his hand?!
Let's just say this: It will take quite a few surgeries and one very ballsy idea to fix what happened to Derek's hand. The question is: Will that idea do the trick?
Casey: Walking Dead spoilers, be them little or big!
How about vague but telling, if you read between the lines? Cool, because that's what we got out of Steven Yeun when we asked about Sunday's episode. "I can't give away too much, but I will say that these people are in a new environment," he teases. "They're in a situation where they have to reassess their surrounding and reassess what survival is in that new environment, and I think that'll make for some issues." We'll be taking bets on which two survivors get into a screaming match first.
Francine: So so so obsessed with Andrea on Walking Dead. What's coming up for her?
Funny you should mention her, because we just talked with Laurie Holden about her big episode on Sunday. "It's going to be unlike anything you've seen on The Walking Dead," she says. "Andrea's storyline in many ways I feel like is almost like a spinoff show. [Next episode] is the introduction of Woodbury, and the introduction of many characters, like the Governor, and a completely different world than people have been exposed to before." Consider our DVRs fired up!
Quinn: Revenge scoop would be lovely!
Brace yourselves for a pretty big revelation: Amanda was not Jack's only friend when he was a child. (Crazy, right?!) Eddie, one of Jack's old high school buddies who is now a cop with a chip on his shoulder, will pay him a visit in episode 10 and we're already campaigning for a Roswell alum to guest star. (Colin Hanks, you free?)
Debra: Fill my glass up with some Cougar Town scoop, please!
Get ready to see the Cul de Sac Crew take on a new game this season: Dodgeball! Yes, at least one of the members of Jules' crew will be playing in a World Dodgeball Tourney and will be facing some pretty large and intimidating competition!
Jake in Los Angeles: Any chance for final season spoilers on Breaking Bad?
It started out as an innocent question, but how Betsy Brandt answered it made us a touch worried for our friends on Breaking Bad. We asked her if she would do a Breaking Bad movie after the show ended, and this is what she said: "Why not? I mean, if there are some characters alive at the end, yeah! I would do four movies." If people are alive? That makes us nervous. And Brandt told us she wants a Six Feet Under type ending, where we find out just how everybody dies. Hopefully some later rather than sooner.
Balto: I know Mad Men started filming already, so spill some scoop!
The cast is keeping their lips sealed about the new season, but we did get this out of Rich Sommer: "I just read the first script, and I can tell you [Harry] is no less than a douchebag than he's ever been, and that's good, I guess." It is good, because we fear change.
ampdalejr89: Any good George and Zoe scoop? I'm DYING for something on them. Please and thank you. #hartofdixie
We'd ask you for your definition of good, but who are we kidding? You aren't going to like this next bit of info, but we're going to share it anyway! Could Zoe be getting a new love interest? The CW charmer is currently casting the likeable, sexy and charismatic Jonah, a surgeon-in-training who is in town visiting family. While he initially comes off as a little cocky (he is a former fratboy after all), Jonah also has a vulnerable side. So he's a surgeon, like Zoe, and is a bad boy with a sensitive side? Yeah, Wade and George should definitely be worried, especially when you factor in that Jonah will be sticking around for a bit.
—Additional reporting by Jenna Mullins and Tierney Bricker

Want your TV questions answered in our next Spoiler Chat? Email them to tvdiva@eonline.com or tweet at @KristinDSantos!