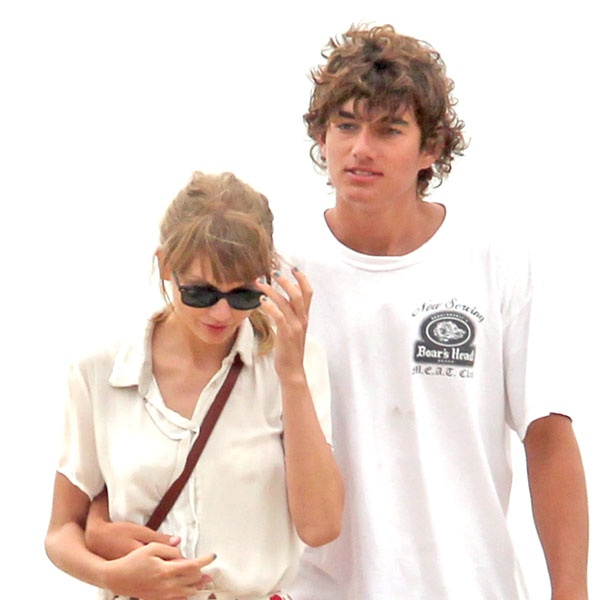 WENN.com
Say it ain't so!  
Our favorite Cape Cod-loving couple—22-year-old Taylor Swift and 18-year-old Conor Kennedy—have reportedly called it quits after just a few months of dating.
We're already mourning the loss of Taylor's Jackie-O fashions and the couple's sweet PDAs, so before we say goodbye forever—or Miss Swift releases a new tale-telling single ('cause you know it's a matter of if, not when)—let's take a look back at their adorable romance.
July 31, 2012: After a brief red herring in the form of a hangout session with Patrick Schwarzenegger, the songbird is first snapped looking cozy with the son of Robert Kennedy Jr. and the late Mary Richardson Kennedy in Mount Kisco, N.Y. After a slew of increasingly touchy-feely East Coast sightings, the twosome is seemingly confirmed as a couple.
August 1, 2012: The "We Are Never Ever Getting Back Together" singer seemingly fits right in with the Kennedy clan and even receives the blessing of Conor's grandmother, Ethel Kennedy. "We should be so lucky," the family matriarch said when asked about the possibility of Taylor one day becoming a member of the Kennedy dynasty.
August 19, 2012: From holding hands and wading in the water to kissing near the Kennedy compound, the aww-worthy PDA pics of this adorable couple just keep on comin'! 
August 22, 2012: Taylor continues to bond with the Kennedy family, touchingly visiting the grave of Conor's mother, Mary Richardson Kennedy, who tragically took her own life in May.
August 23, 2012: Drama alert! Taylor is forced to deny that she crashed the wedding of Conor's cousin, Kyle Kennedy, after the mother-of-the-bride told the media that TayNor (ConLor?) were asked to leave not once but twice at the vow swap, only to refuse. Kathy Lee Gifford also got herself involved in the story, going on air and claiming that Taylor was indeed a persona non grata at the ceremony.
September 6, 2012: Despite the wedding drama, most of the Kennedys still seemingly love T.Swift. Caroline Kennedy admits she listens to Tay's hit tunes and just one week later, Conor's Aunt Rory Kennedy dishes that the couple's romance is "very sweet." Aww.
October 1, 2012: Taylor lands the November cover of Glamour magazine, and is asked point-blank about her romance with the high school senior. "I don't talk about my personal life in great detail," she said. "I write about it in my songs, and I feel like you can share enough about your life in your music to let people know what you're going through."
October 10, 2012: The six-time Grammy winner appears on the cover of Rolling Stone and clears up the odd but seemingly relentless rumor that she kinda sorta maybe kidnapped (in the most well-intentioned sense of the word) her beau. "You can't kidnap a grown man!" the star insists while also telling the mag, "The way I look at love is, you have to follow it, and fall hard, if you fall hard. You have to forget about what everyone else thinks."
October 16, 2012: Conor attends the premiere of HBO's documentary, Ethel, solo in NYC. Meanwhile, his still-on (or maybe not) babe is busy doing promotional rounds for her new single.
October 22, 2012: Taylor stops by Good Morning America to promote her new album Red and deftly avoids any relationship in general or Conor in specific questions. "I don't really talk about my love life," the singer said. "My fans know that I'm gonna give them the real version of what happened to me in my music and they know what they read on gossip sites may or may not be true."
October 24, 2012: The country cutie turns red as Ellen DeGeneres examines her boyfriend history on the afternoon talk show. Taylor makes no mention of her presumptive beau during the appearance.
October 25, 2012: Us Weekly reports that the pair have called it quits after a few intense months of dating. "They quietly parted ways a while ago," a source tells the mag. "It was just a distance thing. No hard feelings. They're fine."
Hmm...no hard feelings? We'll see about that once a Kennedy inspired single comes out.