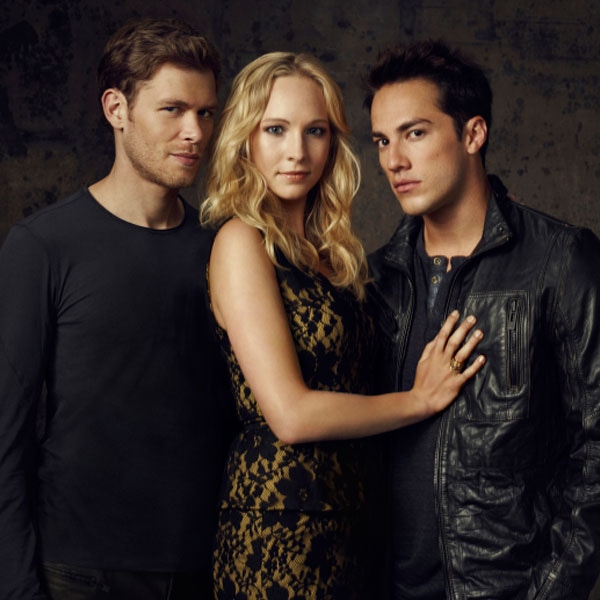 Justin Stephens/The CW
One gorgeous vampire. Two hot hybrids. What more do you need from a TV love triangle? 
The Vampire Diaries' love triangle between Caroline (Candice Accola), Tyler (Michael Trevino) and Klaus (Joseph Morgan) is set to heat up soon, thanks to the arrival of a new wolf in town. So which guy will Caroline be sticking close to in upcoming eps?
Plus, we've got scoop on American Horror Story, Go On, Big Bang Theory and more in today's Spoiler Chat
Mike N.: Loving American Horror Story's new season! Any scoop on what's going on in 2012? 
You mean, other than arm-ripping and death, courtesy of Bloody Face? We'll meet Dr. Gardner, a therapist in episode nine, who is professional and comfortable. Hm…now who would need therapy in the present-day AHS world? In the same episode, only in 1964, we'll be introduced to a powerful and educated court magistrate as well as a new nurse, Betty.
Moonmoon217: Any Klaroline, pretty please?
The Vampire Diaries' resident blonde vampire will getting closer to Klaus after she gets jealous when her BF Tyler keeps a secret from her. A very hot secret: He's been hiding his werewolf friend Hayley (played by The Secret Circle's Phoebe Tonkin) in his house and didn't tell her. Ouch!
Jordan in Wisconsin: So bummed Breaking Bad is ending soon! It's the best show on television. Any chance they'd make another 8 or 10 episodes?
Not likely, and Bryan Cranston tells us why that's a good thing. "My feeling is that movies should be as long as it needs to be to tell the story. And it's the same thing with a series," he says. "And I think we're coming to natural end, so I don't want it to extend past where we're going. It is sad, though." Word, Mr. Cranston. Word. Also, if you haven't seen him in Argo yet, run to the movie theater now.
Theresa in Boston: What's coming up on New Normal?
An epic Halloween episode, that is for damn sure. Not only are both Nicole Ritchie and George Takei guest starring, but Bryan will be dressing up in what Andrew Rannells tells us is a "tribute to Honey Boo Boo." Oh, and did we mention we'll be flashing back to other Halloweens? That's happening, too.
Dave: Any Big Bang Theory scoop?
The sitcom is taking a cue from its network-brother How I Met Your Mother...as in we're going to be meeting one of the gang's mommas in an upcoming episode! Bernadette's soft-spoken mother, Mrs. Rostenkowski, will make her TBBT debut in episode 10.
Gale: I do the right thing for my country and vote, and watch Scandal. Please give scoop!
You are a true hero to America for watching such a great television show. Kerry Washington told us at the Hollywood Film Awards that she would love to have President Barack Obama on the show, but there is one tiny problem. "He's such a good guy, and our show is just about the naughty, naughty people." But someone else is willingly offering their services to the show. It's Bill Maher, who Washington says has offered his set to their show if they want it to fit Real Time with Bill Maher into the Scandal world.
Rosalyn: Any Go On scoop? 
Ryan is getting back out there! Yes, our widower will start dating again soon on the NBC comedy and is doing so with a friend of Carrie's. While attractive and charming, Hannah can also be a bit of a mean girl and can be pretty self-involved. We're now taking bets for how short their date will be!
—Additional reporting by Jenna Mullins and Tierney Bricker

Want your TV questions answered in our next Spoiler Chat? Email them to tvdiva@eonline.com or tweet at @KristinDSantos!