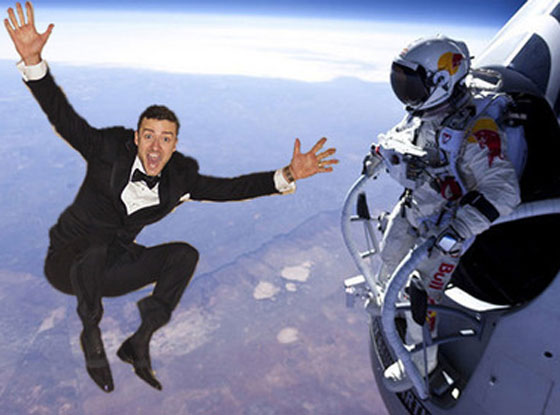 Tumblr
It's been less than 24 hours since we saw the first photo of Justin Timberlake and Jessica Biel on their wedding day, but the perfect pic is already an Internet meme victim.
And considering memes are the hottest Internet creation of the moment (remember Romney's "binders full of women"?), it should come as no surprise that Justin has gone from jumping on the cover of People mag to jumping next to an astronaut in outer space.
The former 'N Sync star's overly enthusiastic facial impression is practically a present in itself for all you skilled Photoshoppers, and we must admit he looks pretty hilarious when placed in a slew of different scenarios.  
We've got Justin crashing Princess Diana's wedding (the tux fits right in!).
And even Justin jumping on the cover of rapper Kendrick Lamar's new CD!
But, as memorable as these silly memes are, we have a few suggestions for all you Photoshoppers with a little Timberbiel time on your hands.
How funny would it be to see Justin jumping on Oprah's couch à la Tom Cruise ("I'm in love!")?
Or even Justin jumping onto the stage of a Backstreet Boys concert (bring back the Nick Carter competition!)?
Come on, Internet peeps. We need a Timberbiel-McKayla Maroney meme.
Make it happen, stat.