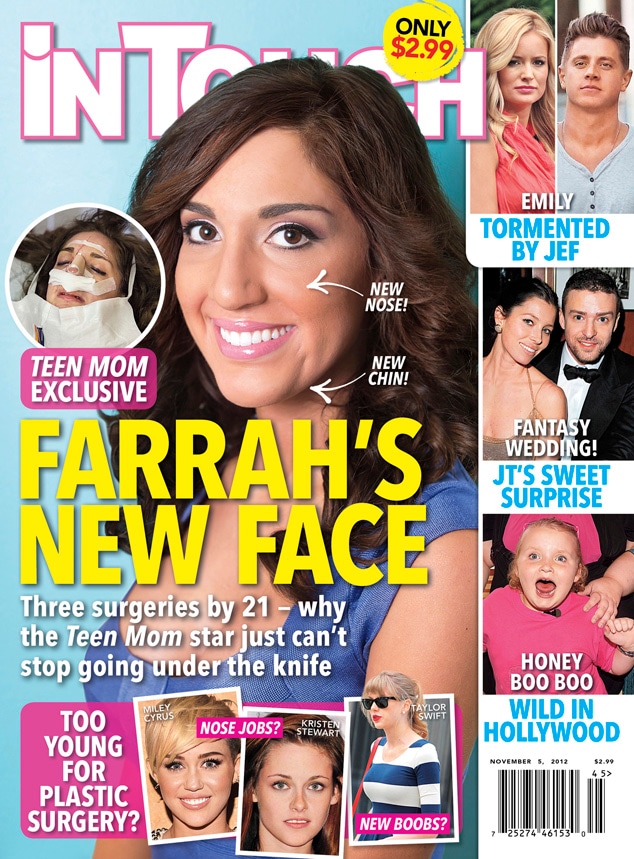 In Touch Magazine
Justin Timberlake and Jessica Biel aren't the only ones with a buzzworthy magazine cover out today.
Teen Mom's Farrah Abraham showed off an all-new look (literally) on In Touch, revealing the fruits of her plastic surgeon's labor.
As for what, specifically, the 21-year-old had done, she told In Touch she underwent just two procedures, a rhinoplasty and a chin implant, both of which were performed by a Dr. Michael Salzhauer in Bal Harbour, Fla., just a few weeks back, on Oct. 7.
"I've hated my nose since I was 13," she told the tabloid.
But fortunately, the reality star single mama is pleased with the results of her permanent makeover. Even if the process was, as expected, less than pleasant.
"I don't have to hate anything on my face ever again," she went on. "I feel gorgeous!"
And her wallet is surely feeling a little lighter, as the entire experience set her back $16,000 (and that's in addition to the $5,000 she spent on her 2010 breast augmentation surgery, incidentally).
Still, money well spent, according to Farrah.
"I hate that surgeries cost this much, but it was worth it," she told the magazine. "There was pain, but it was very worth it."
We suspect the tabloid-buying public will be the judge of that.