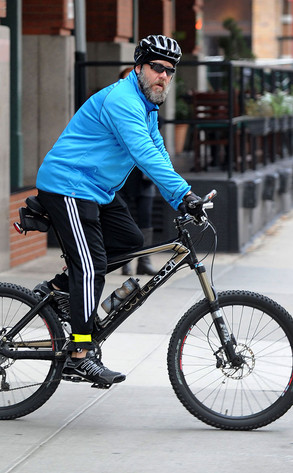 Jason Winslow / Splash News
Russell Crowe gave one paparazzo the ride of his life on Tuesday.
Determined to get the perfect shot of the Oscar winner as he biked through the streets of New York City, J.B. Nicholas hopped on his own two-wheeler and wound up pedaling 7.7 miles from Manhattan to Brooklyn.
"It all started at about 10:30 a.m. when I and five other shutterbugs waited outside a Tribeca hotel where Crowe is staying," Nicholas recalled in a story he wrote for the New York Daily News. "The double front doors of the hotel flew open and Crowe and his bodyguard dramatically shot out on a mountain bike and headed south on Greenwich St."