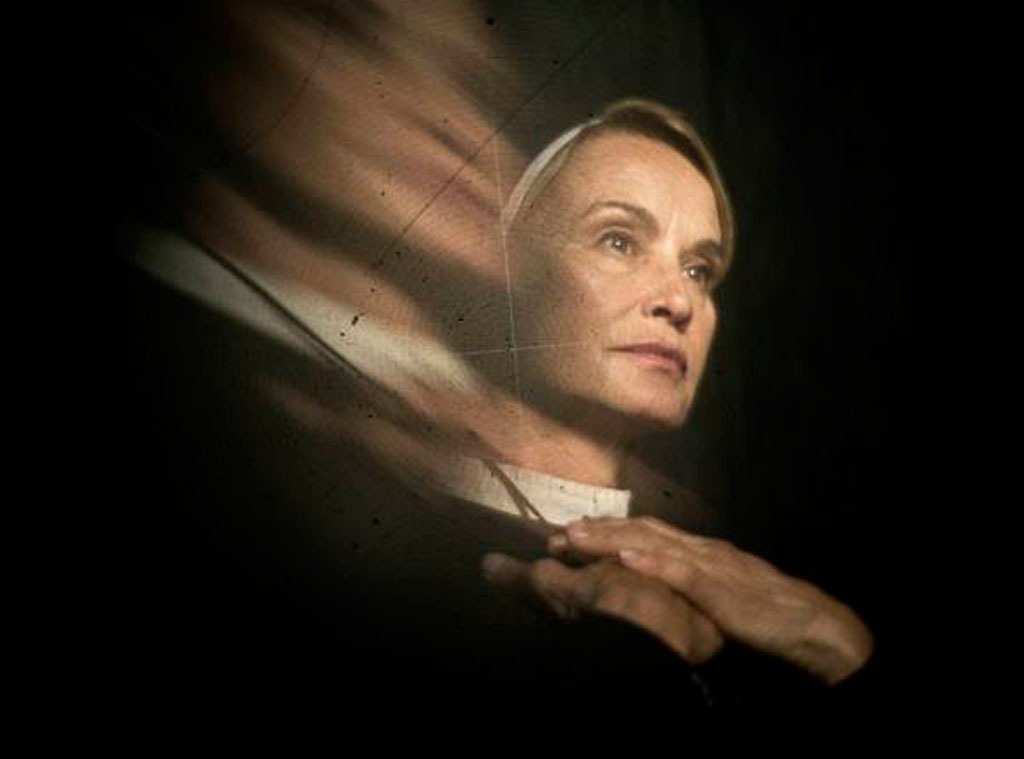 Frank Ockenfels/FX
Exorcisms, babies and surgeries, oh my!
Put them all together and what do you get? Juicy scoop on your favorite TV shows, like American Horror Story, Modern Family and Grey's Anatomy, which we're serving up in today's Spoiler Chat. Plus, we've got intel on a possible new foe for a Glee character and a romance update on a fan-favorite Pretty Little Liars couple.
Denny: You know I can't get enough of American Horror Story spoilers, especially if it has to do with tonight's exorcism episode!
The exorcism is very damaging to the people at Briarcliff, leaving two people dead after the dust has settled. But those deaths won't be the worst thing that comes out of the exorcism. And guess what? The demon knows Sister Jude's secret, and he's not keeping quiet about it!
Tia: Glad to hear E! was on the Grey's set. Can't wait for the Patrick Dempsey interview but did you interview Ellen Pompeo as well?
We did indeed, as well as Jesse Williams and guest star Neve Campbell. Now we're just bragging, aren't we? Oh, you came here for scoop? OK, Meredith will have to make a huge decision to help out Derek, and it might just save his hand. But no helping hand (get it?) is without sacrifice.
Mslinative: How about some non-relationship spoilers about Rachel Berry! I miss Glee and I miss seeing and hearing Rachel Berry!
It's time to meet Rachel's newest New York foe! The Fox hit is currently casting the bitch-tastic role of Anna-Marie, an attractive battle dancer who can sing and dance extremely well, like Rachel-level well. Hmmm...could she be replacing Cassandra July as Rachel's dance instructor? The mind reels.
Brad in Nashville: Sons of Anarchy is killing it this season. I need to know about next week's episode!
It's hard to imagine SOA getting any better, but next week's episode is a big one that cannot be missed. A major secret will be revealed, and...wait for it...there's a kidnapping! And based on the circumstances surrounding the abduction, we fear for the life of the individual who gets snatched up. We can't wait to hear what you fans make of it!
Kelli: Anything you can share about Modern Family would be greatly appreciated!
Baby Pritchett is taking over, y'all! "We have a lot coming up with the whole Gloria and her baby," Nolan Gould previews. "We're going to see how the whole family deals with it. How Gloria and Jay get along with it, because they both have different parenting ideals. There's a lot of change coming to the family, but we're going to have a whole bunch of our funny antics as always!" So when can we expect to see Gloria have the baby? When we asked Gould if they've shot the big birth scene yet, he teases, "Maybe we have. Maybe we haven't. Maybe we have." This was followed by a big wink. We'll let you do with that what you will!
Jackie: Got any scoop on Olivia Munn's New Girl guest appearance?
Ms. Munn will be romancing Nick when she guest stars in a multi-episode arc later this season as Angie, and it turns out the bartender breaks one of his rules for her: He goes across the bar to talk to her, a big no-no in Nick-land. Someone who pushes Nick to pursue Angie? Jess!
Lauren: I loved the Pretty Little Liars Halloween special! What's next for my favorite couple Emily and Paige when the show comes back?
When PLL returns in January (boo, so far away!), the girls will be in a pretty solid place as Em will have to take care of Paige. "Paige sort of deals with some PTSD from being trapped in a closet and you see Emily having to care for her and life her up," Lindsey Shaw tells us. "You definitely see them enter a new chapter. And then Paige comes back more feisty than ever!"
—Additional reporting by Jenna Mullins, Tierney Bricker and John Boone

Want your TV questions answered in our next Spoiler Chat? Email them to tvdiva@eonline.com or tweet at @KristinDSantos!