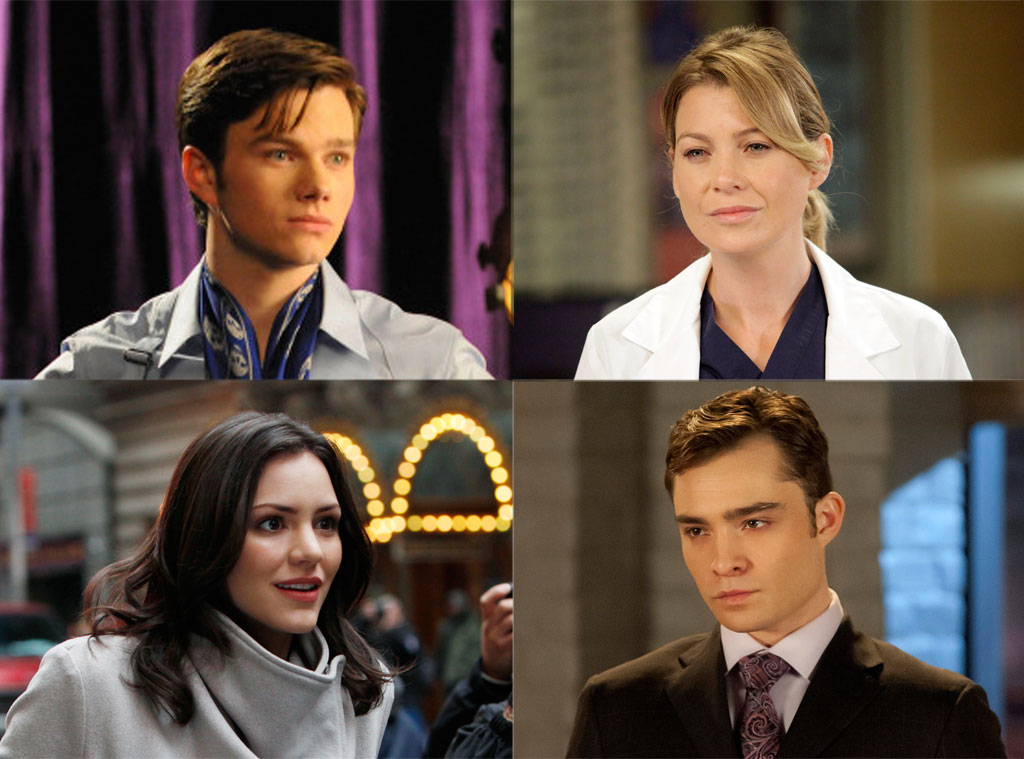 NBC, CW, FOX, ABC
Is there anything more satisfying that a TV wedding? And no, we're not talking about a certain Bachelorette's upcoming televised nuptials.
We're talking about two TV characters on your favorite show coming together in fake holy matrimony! But which show will be sending a duo down the aisle soon? And if you're tired of all those confusing Gossip Girl photos and spoilers making their rounds on the Interweb, then we've got some info to straight things out. All that, plus Smash, Glee, Happy Endings and more in today's Spoiler Chat:  
Nancy: Can I get some non-depressing Grey's scoop?
That is a tall order, but we aim to please. We present this spoiler in the form of a word problem. What do you get when you combine a DJ, a hotel and a minister? The 10th episode of this season, because all three of those things will be involved. Sounds like wedding bells are about to be chiming on Grey's Anatomy.
MonicaHue: Please tell me it's true that Chuck and Blair will get married!
Pump those brakes! Can't dish on anything that far out yet (the series finale is crazy top secret, despite all the recent photos leaking, which may or may not be red herrings) but we can tell you that you Chuck and Blair fans best prepare for some heartache in episode seven. We're hearing C and B are in very different places in their lives and it doesn't bode well for them at that point.
Naazneen: Just did a marathon Smash watch and while she show has definite problems, I'm hooked and excited about Josh Safran coming on board and bringing some awesome. Any spoilers for the new season? If those spoilers are about Karen and Derek, no complaints from me! With Dev out of the picture, will there be some romance for Marilyn and her director?
Based on this little casting scoop we got ahold of, we think there might be someone else romancing our dear Karen. Smash is looking for a new handsome singer-dancer to guest star and maybe even recur in the new season. He's described as sexy, but he's also a playboy. Sounds dangerous. Of course Karen will probably fall head over heels for him. They always go for the bad boys, don't they?
Tami: Any word on a new love interest for Kurt on Glee?
We hear that Kurt won't be looking for anyone new after Blaine broke his heart, but someone else from a just-kaput couple will have a new admirer. The only question is: Will the newly single character be admiring back? 
Dana: Teen Wolf scoop, please!
Prepare to see Scott actually attend class! We'll be meeting Ms. Blake, Beacon Hills High's new English teacher in season three. She's described as beautiful with a confident voice, strong yet vulnerable. Here's hoping her stronger side is stronger (get it?) as she's about to find herself caught in the middle of the werewolves' world.
Tynan in Madison, Wisc.: In celebration of Happy Endings returning tonight, I need some scoop.
Then you should definitely come back later, as we will have exclusive interviews with the entire cast from our Happy Endings set visit. But for now, we'll give up some scoop. Later on in the season, the gang is going to pull off the mother of all pranks on Max. They're going to trick him into believing he's won the lottery. But that's not even the best part! What happens after Max figures out the prank is what you're going to love most about the episode.
Tim: I think Up All Night is so underrated. Please tell me you agree, and please give me some spoilers!
We totally agree, and we will totally give you some spoilers. Guess who's getting married?! Chris and Reagen! What's that? You say they're already married and this spoiler doesn't make sense? Trust us, in episode 11, it will make perfect sense. 
—Additional reporting by Jenna Mullins and Tierney Bricker

Want your TV questions answered in our next Spoiler Chat? Email them to tvdiva@eonline.com or tweet at @KristinDSantos!