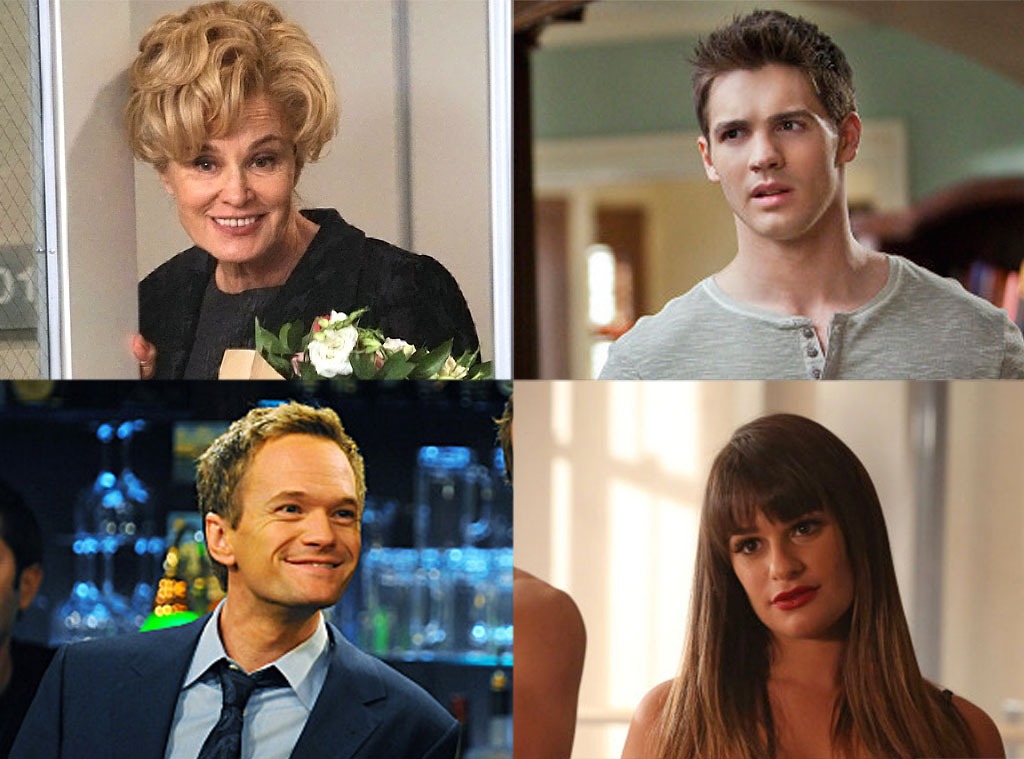 FX; CW; CBS; FOX
Secret lover.
Yes, there's one of those running around on Gossip Girl this season, and in today's Spoiler Chat, we've got the inside scoop on who's getting down on the down-low. 
Plus, we've got spoilers on Jeremy's upcoming storyline on The Vampire Diaries (which has to do with the new vampire hunter in town), a Finchel update courtesy of a Glee star, as well as scoop on The Mindy Project, American Horror Story and more!
Jacob: I need information on why Jeremy could see those tattoos on Connor right now!
Oh come on, you really think we're going to spoil a cool Vampire Diaries mystery for ya? While we won't say much, we can tell you that the invisible tattoo is a map of sorts and no, Jer's ability to see it is not related at all to his whole being-able-to-talk-to-ghosts thang. Bonus: The fact that Jeremy has the tattoos on his arm in a new CW promo pic is no coincidence.
gleekian: When will we have scenes with @CoryMonteith and @msleamichele? Finchel is the reason I keep watching this show :/
Sorry, boo, but probably not for a while. "I think they are definitely spending at least a few episodes apart," Lea Michele tells us. "The viewers have got to see them together, and apart, and it's going to be interesting to see Rachel single in the big city. But I am obviously always rooting for them, but we'll see!" If Lea is still rooting for Finchel, you should, too!
Patty: I loved the short videos American Horror Story released before the season started. Will they be tied certain episodes?
One thing we know for sure is that next episode will dive into the mystery of one of these promos.

David Giesbrecht/ THE CW ©2011 THE CW NETWORK. ALL RIGHTS RESERVED
Kerry Anne: I am dying for some info, any info, on when David Burtka, aka Scooter, will be on HIMYM. And if you are feeling generous, what will his storyline be? Thank you! Love you spoilers, always look forward to your post!
We were just on the How I Met Your Mother set when Joe Manganiello was filming his guest spot, and Neil Patrick Harris told us his hubby David will be back during those episodes, too! Manganiello is booked for two episodes, but we hear Scooter is only in one of those. Probably pining after Lily, per usual.
Jessie: Please tell me there is hope for Rufus and Lily on Gossip Girl!
There's a battle brewing on the Upper East Side: It's going to be Ivy and Rufus vs. Lily in the coming episodes. Of course, we all know that the artist formerly known as Charlie Rhodes is playing Papa Humphrey. But did you know she already has man she's very much in love with? One we all know and (don't) trust. Hint: He's also a father.
Blake: Any scoop on The Mindy Project?
Ed Helms is returning! Sadly, it's not under the best circumstances as Mindy comes face to face with her former blind date when he shows up at her Thanksgiving dinner…with his new girlfriend. Way harsh. Maybe Danny, who has no plans other than hanging around in the office by himself, can stop by and keep her company? Here's hoping!
Sean: Revolution is my new obsession! Any scoop on what's ahead, especially for Elizabeth Mitchell's character?
How about a scooplet based on Rachel and Miles' complicated past? You know, the fact that he turned her over to Monroe? Well, Charlie won't stay in the dark about it for long, and creator Eric Kripke teases that it will be "pretty explosive" for fans when she finds out. We suggest Miles starts watching his back now.