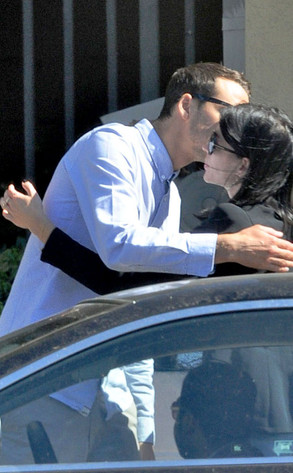 Dean/Ibanez/NPG.com
If you were surprised to see the photographic evidence that seemingly proves Robert Pattinson and Kristen Stewart are back together, then prepare yourself for the next shocking set of postscandal pics.
Because Snow White and the Huntsman director Rupert Sanders and his (formerly) estranged wife Liberty Ross were not only seen together, but they were snapped hugging and sharing a peck. And the twosome looked genuinely happy.
The couple whose marriage was rocked by the Kristen Stewart cheating scandal was photographed leaving an apparent counseling session in Beverly Hills Wednesday, although Ross wasn't wearing her wedding ring, and the twosome left separately after a friendly embrace.