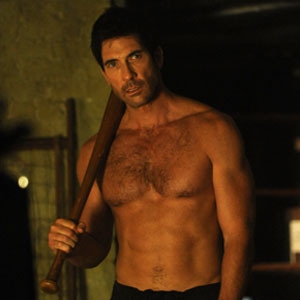 Ray Mickshaw / FX
It's just so hard to stay away!
At least it is for American Horror Story season one star Dylan McDermott, who is poised to return to the hit FX series as a guest star for its second season titled American Horror Story: Asylum (which premieres tonight at 10 p.m.).
Of course, he won't be returning as Ben Harmon as season two of the anthology series houses a completely new setting (a Boston sanitarium) and a slew of new characters and mysteries. So who will he be playing?
Like most things related to American Horror Story, McDermott's season two identity is a mystery!
Creator Ryan Murphy announced McDermott's return on his Twitter account, saying, "So thrilled to announce Dylan McDermott is returning to American Horror Story!"
The actor will be welcomed back by fellow season one costars Jessica Lange, Evan Peters, Sarah Paulson, Lily Rabe and Zachary Quinto, who are all regulars in AHS: Asylum.
American Horror Story: Asylum premieres tonight at 10 pm.