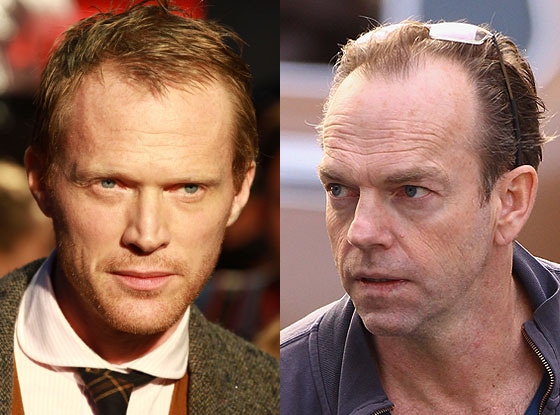 Fred Duval/FilmMagic, Jeff J Mitchell/Getty Images
Paul Bettany and Hugo Weaving have both lent their voices to some of the biggest blockbusters ever. Now, the two are, well, voicing their opinions on the movies they've worked on.
While Bettany can be heard as Tony Stark's computer, J.A.R.V.I.S., in Iron Man, Iron Man 2 and The Avengers, the actor reveals he's actually never checked out any of the flicks.
"My kids love them, but I've never seen them," he confessed to Digital Spy. "They're just not my thing."
What's more, Bettany, who will reprise his role as J.A.R.V.I.S. in the upcoming Iron Man 3, revealed that "they don't send me the whole script, so I have no idea what the movies are about."
He also playfully noted that at times it's like taking candy from a baby.
"I feel like a pirate. This is robbery," he joked. "I walk in, I say some lines on a piece of paper for two hours, and then they give me a bag of money and I leave and I go about my day. I sort of feel guilty, because at least acting can be exhausting, with long hours... but I do nothing!"
Meanwhile, Weaving had a few choice words about voicing the evil Megatron in the Transformers trilogy.
"It was one of the only things I've ever done where I had no knowledge of it, I didn't care about it, I didn't think about it," he told Collider while chatting up his latest movie, Cloud Atlas.
"They wanted me to do it. In one way, I regret that bit," Weaving added. "I don't regret doing it, but I very rarely do something if it's meaningless. It was meaningless to me, honestly. I don't mean that in any nasty way. I did it."
Well, at least they're being honest, right?