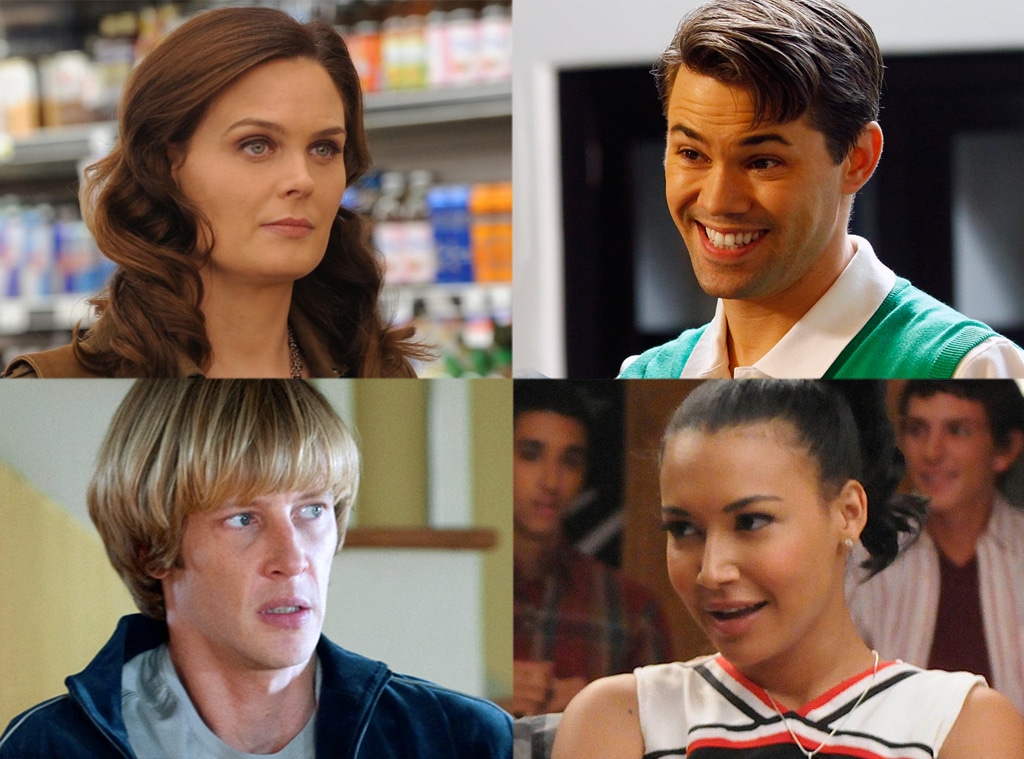 FOX; NBC; ABC
Glee fans, we heard your cry for post-"Break Up" scoop and met your call by going straight to star Naya Rivera for the inside info on what's next for fan favorite couple Brittana. But will you like what she has to say? 
Also in today's Spoiler Chat, we have scoop on everyone's favorite collar-poppin' sidekick on Revenge, intel on a Modern Family wedding and details about Matt Bomer's upcoming guest appearance on The New Normal. 
Plus, scoop on Revolution, Bones and more...
Stacie23_: Anything on Brittany or Santana or Brittana on GLEE. We were left with some weird breakup out of the blue.
The breakup will certainly get weirder since Santana will be sticking around Lima for a bit, at least long enough to help out with a McKinley High production. "We're doing Grease, and that was fun. I got to participate in that, which was a nice little homecoming," Naya Rivera tells us. But she remained tight lipped on whether Santana will be interacting with Brittany during her Ohio vacay. "Right now, the breakup is still fresh. So I guess we'll see," Rivera says coyly.
brittneyh10: Dying for some Revenge scoop on Nolan! Pretty please?!?
The new guy Aiden? Yeah, Nolan is not a fan and Gabriel Mann says we may see the two men vie for Emily's attention. "He's so suave in a way that I think drives Nolan absolutely nuts because it's everything Nolan wishes he actually were," Gabriel explains. "And he has a certain connection to Emily that he continues to search for that happens a little bit more organically between the two of them. I would say there could be some interesting dynamics between Emily, Aiden and Nolan. Actually I'm going to guarantee it." Bring. It. On.
misslicorne: Anything on theNew Normal? Something about Matt Bomer's character?
Bomer's character Drew will have eyes as blue as the ocean on a warm summer day. Wait, that's a given. It's Matt Bomer for crying out loud! You want something new? OK, the reason he and Bryan might have broken up? Because Drew cheated on him...with a girl. That should make for a very awkward reunion for the exes.
Kelly in Boston: Modern Family scoop on Cameron and Mitchell. They are the best couple on television!
Soon to be best married couple on television? Maybe! Jesse Tyler Ferguson tweeted this photo yesterday of him and Eric Stonestreet in an environment that looks a lot like a wedding. "It's not what it looks like. Or is it? Guess you'll have to wait to find out!" Ferguson wrote teasingly under the pic. Please, please let this happen, TV gods. We need to see Cam in wedding planning mode like we need air to breathe.
Amy P.: You say you love Parks and Rec, but I haven't seen spoilers in awhile! Fix it!
We were too busy throwing a fit over the fact that we didn't get a new episode last week because of some kind of debate. Apparently there's an election coming up? Anyway, there is a new episode this week so our sprits are high again, which means scoop is coming at your face...now! In an upcoming episode titled "Two Parties," it sure sounds like there might be a wedding coming up! There's definitely a stripper involved, and based on what kind of stripper he is, we think Leslie Knope is the one getting the lap dance. It's a male stripper dresses as Abe Lincoln. Let that fact soak in, and join us in assuming Ben and Leslie get married and have lots of babies together. Too soon? We don't care, we are shipping them hard over here.
Louisiana R.: Any scoop aboutBones please? I want to know what is going to happened
Lucky for you, we just bugged Tamara Taylor about the love lives of the gang in the lab. "Cam gets a boyfriend! Finally. Finally. As Hart (Hanson) and Stephen (Nathan) have said, it's somebody we know. It's somebody we've seen," she tells us. "I think it will surprise people. It surprised me. I was like, 'Oh! Hmmm! Wouldn't have guessed that.' Definitely a good surprise." And what about those lovebirds Booth and Bones...is there a wedding on the way? "They're kind of teasing us. They're saying there may be," Taylor says coyly. "I don't know what kind of twist, because you know they're going to have to add some kind of crazy twist."
Jessica: Need my Scandal fix now!
Kate Burton is coming back as Vice President Sally Langston, y'all! In episode 11, we'll meet her secretary, which could turn into a possibly recurring character. (Here's hoping this one turn's out better than former chief of staff Billy!). In the same hour, we'll be introduced to the Head of the FBI. Uh-oh, seems like trouble is brewing on Scandal and we wouldn't have it any other way.
Derek: Revolution is getting so good! Any scoop on what's ahead?
Prepare to meet more members of the rebel army, including McClusky, one of the gang's leaders who is iron-tough and has a kind but commanding presence. We'll also meet Sanborn, a tense scientist who loves to build intricate weaponry. Hmmm, these two roles have our minds reeling as they are set to make their first appearances in episode 11, which follows a can't-miss episode 10. Creator Eric Kripke teases that Charlie and the gang will catch up to Danny in that episode, and Miles and Monroe will finally come face-to-face. "They still really love each other. When they see each other, they're not really sure if they're going to kill each other or hug each other," Kripke teases, describing their history as "very tragic, emotional and Cain-and-Abel." 
—Additional reporting by Jenna Mullins, Tierney Bricker and John Boone
Want your TV questions answered in our next Spoiler Chat? Email them to tvdiva@eonline.com or tweet at @KristinDSantos!