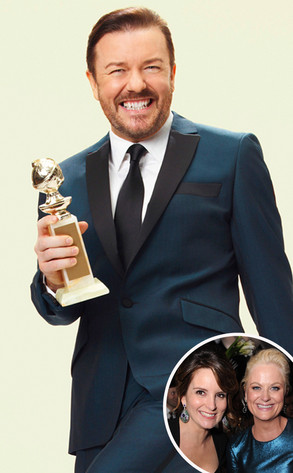 Virginia Sherwood/NBC; Jordan Strauss/WireImage
Ricky Gervais has a bit of beef with E!'s Fashion Police.
On Monday, it was announced that funny gals Tina Fey and Amy Poehler will cohost the 70th Annual Golden Globe Awards, and today, the snarky Brit (and host for the past three years) shed some light on his departure.
"Good luck to Tina Fey and Amy Poehler at the Golden Globes. After failing three years in a row to make E! Channel's Best Dressed list, I decided to hand over the reins," Gervais said in a statement to EW. "Let me know if you run out of Scientology gags."