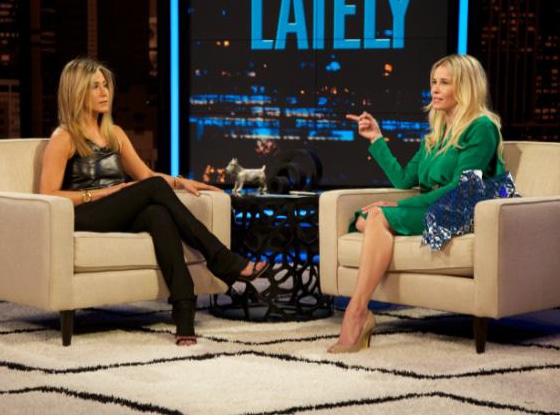 E! Networks
Jennifer Aniston is so happy about her engagement to Justin Theroux, she could cry—literally!
That's what she did when her BFF Chelsea Handler asked her about the engagement during an interview that will air on Chelsea Lately on E! tonight at 11 p.m.
"I just got verklempt," Aniston said as she wiped the tears from her eyes.
As the world now knows, Theroux, 41, popped the question back in August.
"He's the greatest guy ever," Handler said. "You guys make the greatest couple ever."
Aniston nodded while flashing a big smile. Aww.
Aniston, 43, hasn't said anything publicly about it until today. Heck, we didn't even get a look at her gigantic engagement rock (yes, she was wearing it during Chelsea Lately) until just a little over a week ago, when paparazzi snapped the lovebirds sharing a sweet moment in Sante Fe, N.M.
The two were most recently spotted on Saturday night enjoying dinner at the Chateau Marmont hotel in West Hollywood.
Aniston is Handler's first guest on her new bigger and bolder set on the historic Stage 1 at Universal Studios. The former Friends star was casual chic in an all-black ensemble of skinny jeans and a leather camisole.
Aniston's actually not the only major celeb making an appearance on the show tonight. Wait till you see who it is!
Handler's guests for the rest of the week are Fergie, Miley Cyrus and Christina Aguilera.
Congrats, Chelsea!