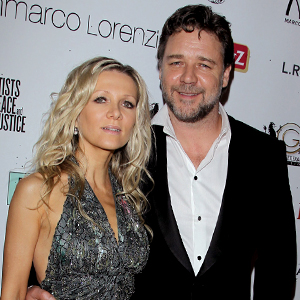 George Pimentel/WireImage
With rumors running rampant that Russell Crowe and his wife, Danielle Spencer, have separated after nine years of marriage, we thought we'd take a moment to look back at their time together.
1989: Crowe and Spencer meet while playing lovers in the movie The Crossing.
December 2002: Crowe proposes to Spencer in a Sydney restaurant.
April 2003: The couple ties the knot at a chapel on Crowe's New South Wales farm.
Dec. 21, 2003: The newlyweds welcome their first child together, son Charles.
Sept. 5, 2005: Crowe and Spencer serve up some serious PDA on the red carpet while attending the Cinderella Man premiere at the Venice Film Festival.
July 7, 2006: Spencer gives birth to the couple's second son, Tennyson.
July 2007: Crowe pens a heartfelt letter to his and Spencer's two children to be placed in a time capsule.
May 2010: Crowe and Spencer show off their charitable side by attending the Artists for Peace and Justice fundraiser during the 63rd Annual International Cannes Film Festival.
Dec. 2010: Crowe and Spencer sail in Sydney Harbour with Oprah Winfrey as part of the final season of her show.
June 2012: Spencer is photographed getting cozy with Damian Whitewood, her partner on the Australian version of Dancing With the Stars. Soon after, though, Crowe is seen greeting his wife with a kiss at the airport.
Oct. 14, 2012: The Sydney Morning Herald reports Crowe and Spencer have called it quits.