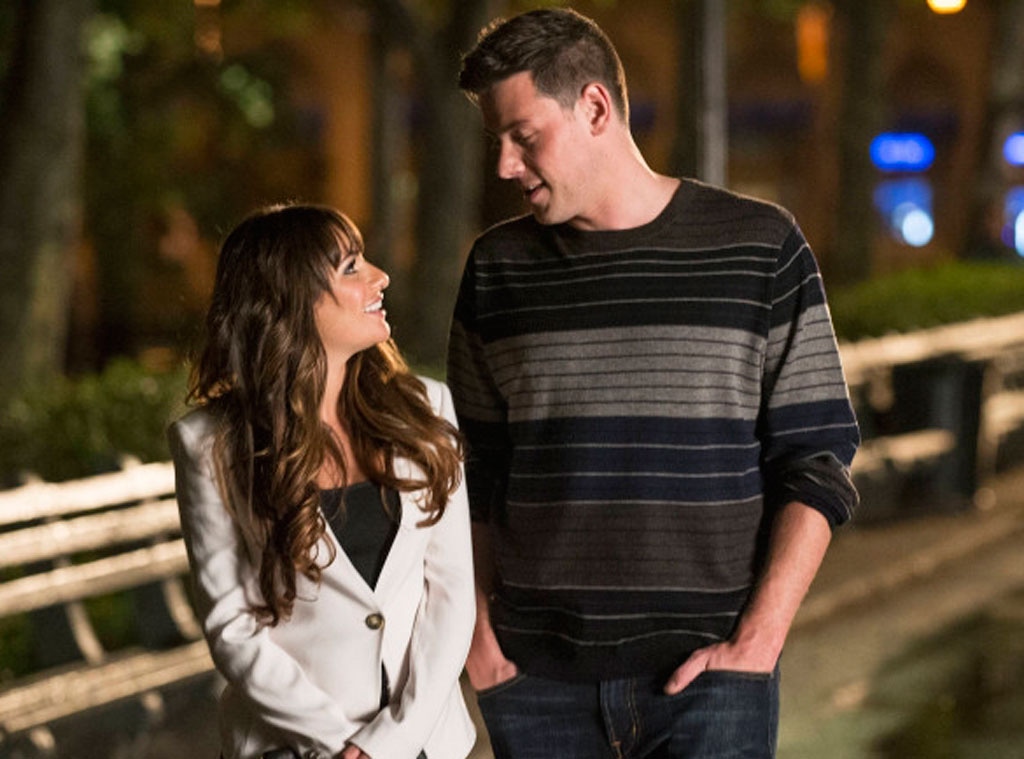 FOX
After a heartbreaking episodes like Glee's last offering, there's nowhere for plotlines to go but up, right?
Instead of asking the questions, we went right to one of its stars to get info on what's coming up for a certain fan-favorite couple, and what the show has planned for the upcoming holiday season. And we've seen the first episode of American Horror Story, so of course we're spilling the beans. All that, plus scoop on Revenge, Homeland, Nashville and more in today's Spoiler Chat…
Felix: After that last episode, I need some good news for my Glee couples.
Glee is planning a big Thanksgiving episode, which will reunite many of McKinley High alums, and that includes recently broken-up couples. But for now, Finchel fans might want to just accept the fact that for the time being, those two aren't going to be together for a while. Lea Michele confirmed to us that even though she flew home to Ohio to confront him, that's where their interaction ends, and Finn and Rachel will not be speaking or seeing each other at all when Glee returns from hiatus.
Anne: Homeland is amazing this season! Any scoop on what's ahead?
We can tell you that the finale's episode title is…"The Choice." We can also tell you that there will be a funeral occurring in that hour. Yes, we're already having anxiety attacks.
Olive in Chicago: American Horror Story's new season is just a couple days away! What can I expect from the first episode?
You can expect exactly what you're used to from AHS…and more! We will see more of Adam Levine and Jenna Dewan's characters after that unfortunate incident they find themselves in during the first five minutes. One of them will literally come face-to-face with Bloody Face. Unlike last year, we will see exactly what type of monster we're dealing with in the very first episode. And those who are big fans of Evan Peters will be happy to see he is the star of the premiere (besides the great Jessica Lange, of course). And if you weren't scared of aliens before, you might be after the episode.
Riley: I love the combo of New Girl and Mindy Project, so I'll take scoop on either one.
Ooo, we love making decisions. It makes us feel important. A possible recurring character is joining The Mindy Project very soon, and that character just happens to be Shauna's boyfriend. He's a hunky New York City cop. We just love a guy in a TV uniform.
@AlwaysEachOther: pretty please can i get some Scarlett&Gunnar scoop from #Nashville this week's spoiler chat? Shipping hard guys...
Shippin' ain't easy, eh? We can confirm that a love square will develop on Nashville among Scarlett, Gunnar, Avery and someone else. You can probably guess who that fourth person is. As for Scarlett's feelings for Gunnar, Clare Bowen tells us that while Scarlett is certainly in love with her boyfriend, she does feel a connection with Gunnar. Keep that shippin' flag flying!
Reenie: Revenge just keeps getting better and better! Any scoop?
Prepare to meet Salvador Grobet, a Central American gentleman who will be staying with the Graysons for a bit. He's dashing, wealthy and loves to use his charm on any lady in a two-mile radius, but that doesn't mean he isn't in town to get some business done as well. Also, it seems like Amanda is sticking around a bit as a baptism will be performed later this season. Le sigh…
Chris: Revolution scoop is in order!
Want to know why the lights went out? Yes, that was a trick question, because of course you want to know! Creator Eric Kripke teases that viewers will get the answer to that question sooner than you might think. "We're talking dangerously about revealing that secret before the end of the first season," he tells us. "It's part of my philosophy about not being too precious with anything. We may reveal the secret sooner than later."
—Additional reporting by Jenna Mullins and Tierney Bricker
Want your TV questions answered in our next Spoiler Chat? Email them to tvdiva@eonline.com or tweet at @KristinDSantos!