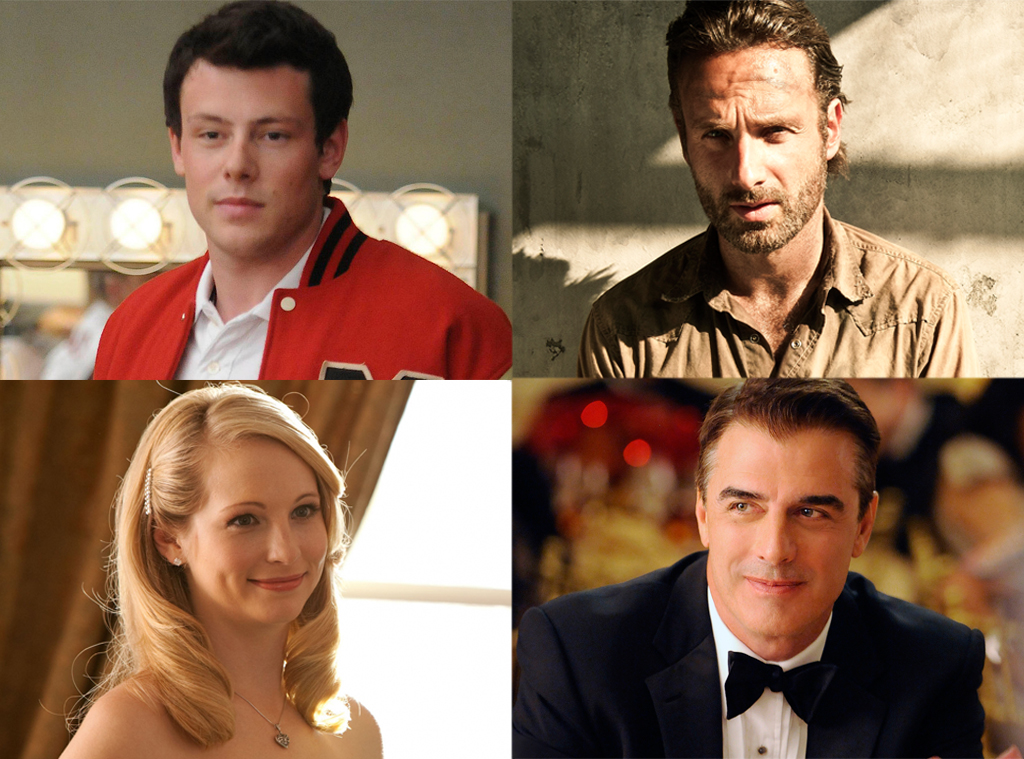 FOX; AMC; CW; CBS
A fan favorite exits on Glee! A steamy moment between Elena and one of the brothers on The Vampire Diaries! Answers to burning mythology questions on Revolution!
What do all three of these awesome things have in common? They're what we have in store for you in today's Spoiler Chat! Plus, we've got romance scoop on Scandal, goodies on The Walking Dead premiere and the inside scoop on how much of a Teen Wolf fan favorite viewers will be seeing this season...
Nicole: Can you please find out what's going on with Jayma Mays on Glee? Why is she a guest star when she's been a regular for the past three seasons? Please tell me they don't plan on writing her out of the show. Glee would suck without Emma and Wemma.
As far as we know, there are no plans to write anybody off the show. And we agree, Glee would suck without those two, but it sounds like we might have to get used to the show without Wemma, or at the very least, without Will. Based on what Jane Lynch told us recently, Mr. Schue is going to be absent for a bit, perhaps to go to Washington? "Finn is going to take over the glee club for a couple of weeks," she reveals to us. But does Will take his bride-to-be with him? That is scoop for another time, Gleeks.
David: Any TVD scoop you can share?
While Caroline will be there for Elena, expect to see a major change in their friendship when the blond vamp doesn't like the way the new bloodsucker is acting. Hint: It may or may not have to do with a steamy moment Elena shares with the older Salvatore brother in episode four.
Gregory: When will we see Grace again on Revolution? Or is she dead? I need answers!
And you will get them…in episode seven. "We see who Randall is, this person who kidnapped her in episode two, and we get to learn more about him," creator Eric Kripke tells us. "We start to expand it because she is under duress with this character, Randall. She's in a dangerous position right now. In the second of the half the season, Grace and Randall and what's happening with their storyline begins to play a huge, huge part in the main storyline of the show."
Melissa: After hearing about Colton Haynes' exit, I need some good Teen Wolf news.
Fans will be happy to hear that Daniel Sharman, who plays new wolf Isaac on the MTV hit, will be in at least eight episodes in the first half of season three. We're hearing there's a good chance Sharman could eventually be bumped up to series regular.
Meg: Scandal just keeps getting better and better, but I'd love to see Harrison get a love interest! What's coming up for him?
Why don't we just let the very attractive and charming Columbus Short field this one himself? "Harrison is a very interesting person. Does he have a love life in a romantic sense? No. But he has a very distinct love life with Olivia, with Abby, with Quinn," he says. "Abby and Harrison have this relationship that has grown into something truly special and it grows into something tremendously special and complicated. Abby always questions Olivia and Harrison has this loyalty to Olivia that is unbreakable—that becomes a really big element." Take from that what you will!
Christina: CSI: NY scoop, please!
It's time to meet Adam's father! Viewers will be introduced to Walt (and his Irish accent!) when Adam goes to visit his father—who's suffering from Alzheimer's—in the nursing home.
Tessa: I need Good Wife scoop on Mr. Big, I mean…Peter.
Chris Noth will always be Mr. Big to us, too. And Matthew Perry will probably always be Chandler. So imagine how happy it makes us to see Noth and Perry on The Good Wife together, even if they are at odds. "We're running against this guy who's using family values as a way to get elected, played by the wonderful Matthew Perry," Noth tells us. "So what I'm dealing with now is [Eli] is dealing with the blowback from my separation and how that appears politically. [Peter's] got a lot of stuff to deal with. There's going to be stuff that they're going to drag up to drag me down." Drama, drama, drama…
Eddie in Los Angeles: Walking Dead premiere is finally here! Please please tell me something about the new season!
"It's going to be an escalation of what we saw at the end or the second season, creator Robert Kirkman tells us.  "So it's going to be bigger, better, faster. There's going to be a lot more action, a lot more cool stuff. But the same drama that you want to see." How much more action? "Well, let's just say in the first episode there are more zombie kills than in most of season one," star Andrew Lincoln teases. Bring on the bloodbath!
—Additional reporting by Jenna Mullins and Tierney Bricker
Want your TV questions answered in our next Spoiler Chat? Email them to tvdiva@eonline.com or tweet at @KristinDSantos!