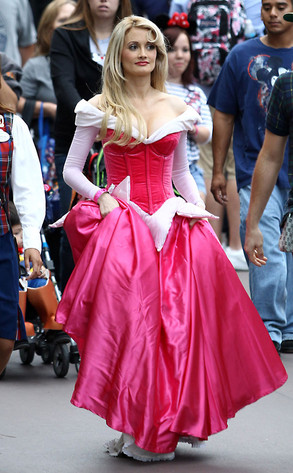 INFphoto.com
You're not dreaming—Holly Madison really is dressed as Sleeping Beauty.
The pregnant Peep Show star got her fairy-tale princess on yesterday at Disneyland for Mickey's Halloween Party, the kid-friendly antithesis to the more frightening horrorfests put on by other theme parks this time of year.
Madison, who made the festive scene with costar Josh Strickland, opted for the bright pink version of the sometimes-pink, sometimes-blue gown worn by Princess Aurora in the cartoon classic Sleeping Beauty.
That's quite the bodice on the expectant mom, isn't it?