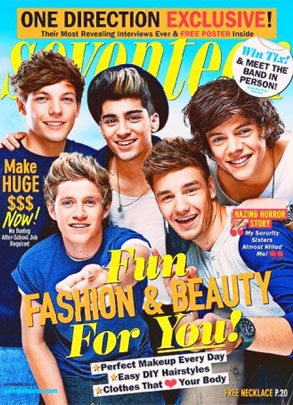 John Wright/Seventeen
Forget about Beatlemania. These days One Direction pandemonium is taking over the USA.
Niall Horan, Zayn Malik, Liam Payne, Harry Styles and Louis Tomlinson have made chart history in America with "Live While We're Young," the fastest-selling track ever by a non-U.S. artist, per the BBC. The single sold 341,000 copies, according to the band's reps, topping the digital tracks and songs chart. Meaning? The fivesome from across the pond even outsold the Beatles here in the States!
"We're so happy with the success of the single in the USA," Niall said. "We can't wait for everyone to hear our new album."
But while the guys are devoted to their music, they're focused on the ladies, too. "I wouldn't say [I'm] girl-crazy, because that makes me sound like a bit of a womanizer," Harry tells Seventeen magazine's November issue. "But, I am quite flirty—maybe too flirty."
Niall was quick to praise 1D friend Demi Lovato. "The nice thing about Demi is, once you know her, she's really, really beautiful," he gushed. "If I ever needed anything or needed to talk to anybody, I think Demi would be the person to talk to."
Don't get too excited about the idea of Demi and Niall, though. The X Factor judge told Teen Vogue's November issue that while Niall is "a really awesome, sweet guy…he's not my boyfriend."
For the full interview with One Direction, check out the new Seventeen magazine on stands Oct. 16.