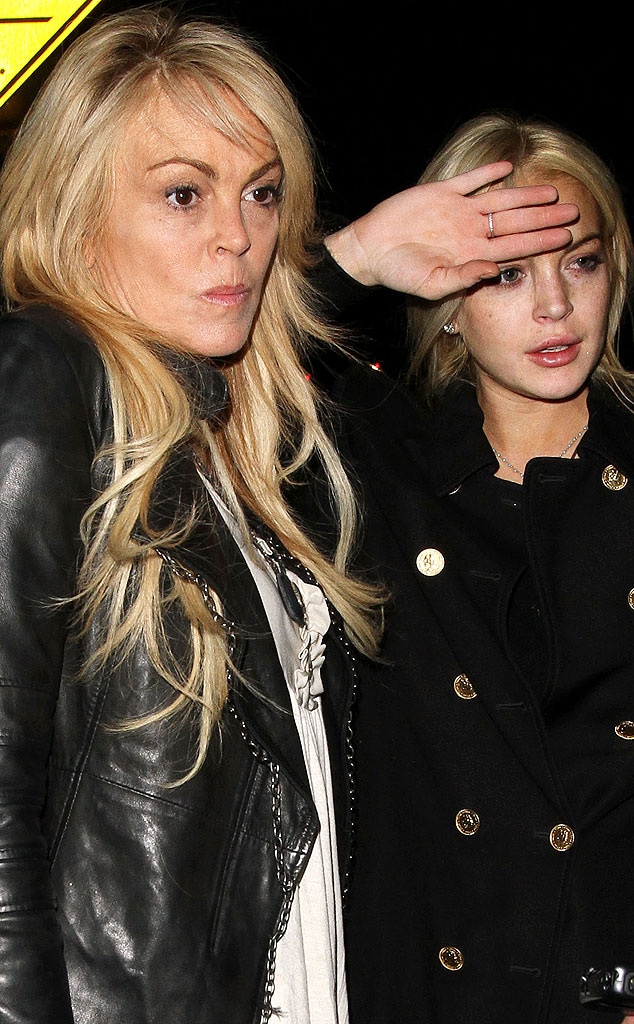 Splash News
More drama in LiLo land.
Police in Long Island, N.Y., confirm to E! News that Lindsay Lohan and her mother, Dina Lohan, allegedly got into a massive fight that ended with a 911 call in which cops responded to a report of a disturbance at the latter's home in Merrick Wednesday morning.
"Police conducted an investigation and determined a verbal argument had occurred between Lindsay and her mom Dina," a Nassau County Police spokesman tells us. 
"There's no criminality and no arrests were made," he added.
However, officers on the scene did take a domestic incident report. The spokesman declined to release further information, including a tape of the 911 call.
Per TMZ, the row started after both mom and daughter partied until 4 a.m. at Manhattan's Electric Room nightclub at the Dream Hotel—the same hotel where LiLo was accused last month of swiping a man with her car.
In the car on the way back to Long Island, the two got into an argument that purportedly escalated into a physical confrontation when they got home. And the site quoted sources as saying Lindsay reportedly sustained a cut on her leg.
Reps for both Lohans were unavailable for comment.
Recently, a friend of Lindsay's told E! News the actress is "not in a good place." We'd argue that also includes her relationship with her mom, but a source close to the family tells E! News both Dina and Lindsay are doing "fine."
"Nobody was harmed and there was no physical confrontation, so I'm not sure where those reports are coming from," said the insider. "[Lindsay]'s still with [Dina] as she slept at the house. Cops were called to make this a media stunt."
E! News has since learned that the person who called 911 was none other than Lindsay's dad, Michael Lohan, who tells us he did so on the Mean Girls star's behalf.
"I did call the police at Lindsay's request and Lindsay even asked that I record the conversation because she was being held against her will by the limo driver at Dina's instruction," Michael said in a statement. "There is a lot more to it than the police report says and it's going to come out!"
The elder Lohan also accused his ex-wife of "endangering" not only Lindsay, but also their other two daughters Ali and Cody.
"it's got to stop!" he added. "Lindsay even says to me in the conversation that Dina does the same thing to Lindsay as she does to me using the kids as pawns and lying to get money from both of us! She just took another $40,000 from Lindsay and she even says it! Dina and her lies have got to be stopped! I won't have this done to my kids or be lied to and about any more!"
(Originally published Oct. 10, 2012 @ 7:45 a.m. PT)
—Additional reporting by Alicia Quarles and Katie Rhames