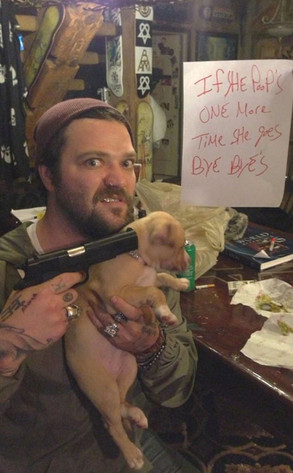 Twitter
Bam Margera has built a career on playing pranks and being, well, a Jackass.
But in a recent twitpic, the 33-year-old daredevil took things too far when he pointed what appeared to be a gun at his pit bull puppy's head. "Penny pooped in my bed," Margera tweeted and has since deleted. "If it happens again, Penny goes Bye Byes."
Margera explained to the Philadelphia Inquirer that the gun was a fake. In an interview with the paper at his Chester County, Pa., home, Margera said he was unaware of a rise in horrific animal-abuse cases in the area. "I think those people need to go down," he said, adding that he would've never posted the photo if he'd known about recent instances of abuse. "Just hurting another animal is rude, crude and more."