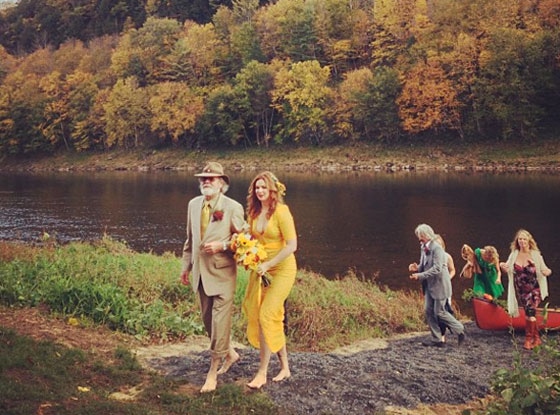 Twitter
Here comes the bride all dressed in yellow!
Amber Tamblyn opted for a bright, nontraditional wedding dress when she said "I do" to David Cross over the weekend. Questlove tweeted an Instagram shot of the 29-year-old actress and her father, West Side Story actor Russ Tamblyn, emerging barefoot from a canoe.
"Princess Amber arrives in style," the Roots musician captioned the nature shot.
All of Tamblyn's Sisterhood of the Traveling Pants costars—Blake Lively, America Ferrera and Alexis Bledel—came out to celebrate.
Questlove tweeted a candid Instagram shot of Lively and new husband Ryan Reynolds (aka "The Reynolds") at the Tamblyn-Cross "#weddinginthewoods". (Last month, Tamblyn was one of the few close friends invited to Lively and Reynolds' South Carolina wedding.)
Amy Poehler, who recently split from husband Will Arnett, was also in attendance.
Filmmaker Lance Bangs broke the news that Yo La Tengo provided music for Tamblyn and Cross' special day. Questlove tweeted an Instagram shot of the newlyweds' "Interpretive Dancing" while their guests looked on.
This is the first marriage for both Tamblyn and Cross.