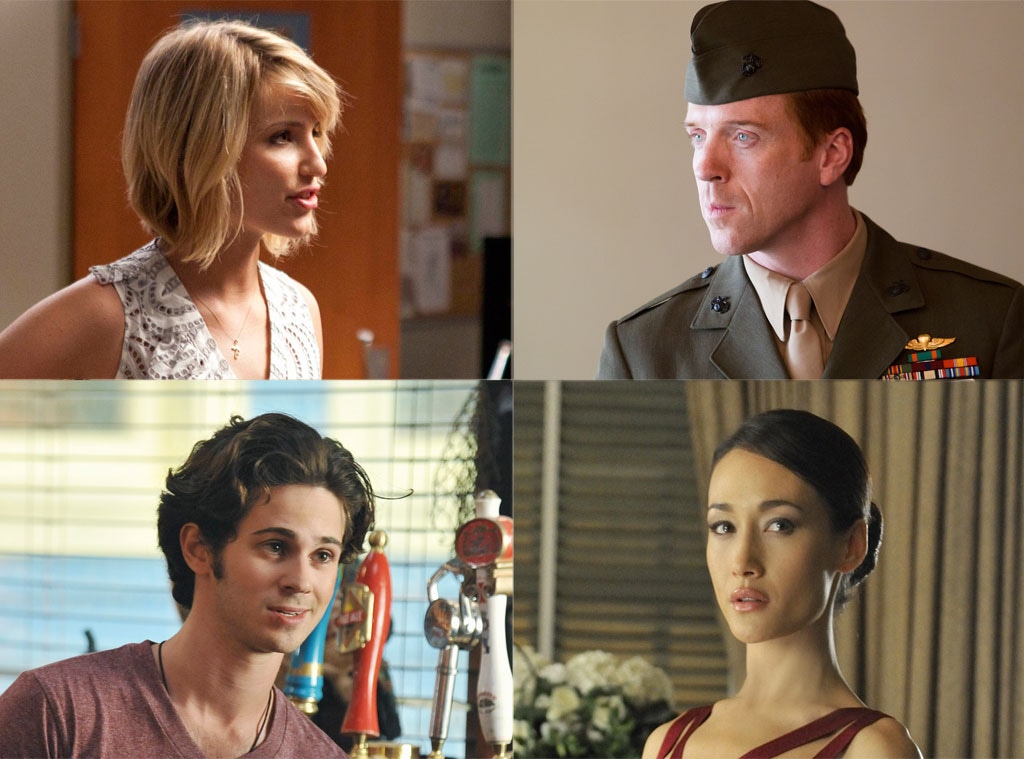 FOX, ABC, Showtime, CW
When Glee's season-four cast photo came out, fans of Quinn Fabray took to Twitter and our comments section to voice their anger: "Where was Dianna Agron?" you yelled. It was an Internet uproar for the ages.
Ryan Murphy made sure to calm fans by insisting that Agron was not off the show, and we've got some scoop that'll ease Quinn fans' worries even further. And since Gossip Girl premiered last night, we bet you're dying for some info on what comes next. All that, plus Revenge, Homeland, Nikita and more in today's Spoiler Chat:
Angela: Is Dianna Agron off the show for good? If she's not, when will we see her on Glee next?
Even though Quinn has been MIA (and probably will be for a while), Jane Lynch assured us recently that Agron is still on the show and the rumors that she's leaving are just not true. And based on some whispers we hear from sources, Quinn might make a triumphant return to interact with someone that is very familiar to her. You know, a certain blond, bitchy cheerleader whose name rhymes with pretty.
Lisa W.: Any Nikita, Once Upon a Time or Boardwalk Empire news, please.
Three great shows, and we pick…Nikita! For all you Michael and Nikita fans out there, a moment you've probably been dreaming about since day one will finally arrive in the season premiere. That's all we can say, so move along!
Monica: So happy Gossip Girl is back! Please give us some good Dan and Blair news! I'm missing them.
Sorry, girl, but as far as we know, there will be no Dan+Blair to speak of in the coming episodes. Howevah! We can tell you that we've heard of a core couple getting back together, one that many of you fans have been waiting a looong time for!
Cammy: Enough already! I've seen the teasers that show Brody and Carrie coming face to face in a hotel, but how long do I have to wait?
It's the question on every Homeland fans' mind, right? The reunion happens in episode four, but trust, it is: Worth. The. Wait. Now that Saul knows the truth about Brody, he and Carrie will work together again. This all leads to an insane encounter where Brody and Carrie try to "bury the hatchet." We're not going to spoil how it all unfolds, but believe Team WWK when we say you will not see the end coming. Season two of Homeland is moving even faster than the first!
Jessica: Anything you can tease in regard to your recent blind item about TV's good girl killing someone?! Dying to know who it is!
We wouldn't want to ruin the surprise, so we'll tell you that the guilt will really eat up our good girl after she kills a notable character (a guy) in her hometown in the first half of the season.
Daisy from Phoenix: Got any Revenge scoop of the non-Emily variety?
As a matter of fact, we do! The addictive hit will soon be flashing back to pivotal moments in the lives of both Victoria and Declan. ABC is currently casting a 12-year-old version of Jack's little bro for an episode entitled "Lineage." That will also be the same episode where we meet Victoria's mother. Did it just get colder in here at the mere mention of the evil queen?
Daphne: It seems like Abby is starting to turn on Olivia on Scandal? Will the whole team begin to question her?
While Abby may be going off her leash (which will continue in Thursday night's episode, big-time!), one associate will always stick with Olivia. "I don't think you'll ever see Huck question Olivia, he's just too loyal to her," Giullermo Diaz tells us. "He's like a stray dog that you bring in and you give them a better life and they never leave your side no matter what. He'll do things that Olivia will take note of, like when I think automatically Olivia wants me to cut the pastor's body. Things like that, when a dog chews your shoe. I don't think Huck will ever question her."
Ronnie: Happy Endings scoop! I miss my favorite group of friends.
Join the club. We have T-shirts. Do you remember that spoiler we gave you guys about Alex selling a dress to a pop star? That same celebrity is going to be a bigger part of the episode that we originally thought. She might even find, dare we say, love?
Clarissa: Tell me what's coming up for the adorable Dr. Sweets on Bones
If you love Sweets, then Bones eighth episode of the season, titled "The Twist in the Plot," will be the one your DVR cannot miss. He'll be going head-to-head with another doctor while the doc battles with the guilt in choosing to help his wife terminate her life. It'll be a very interesting conversation to say the least, and a great moment for John Francis Daley to do some scene-stealing.
—Additional reporting by Jenna Mullins, Tierney Bricker, Shawna Malcom and Taryn Ryder