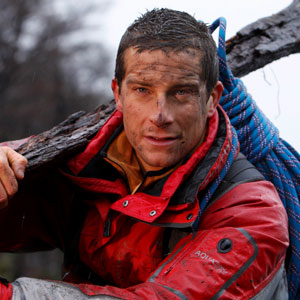 Discovery Channel
Need something a little more extreme than Survivor and Amazing Race in your reality shows? Then NBC just green lit an answer to your prayers.
The network announced today that it will be producing a new adventure competition series with Bear Grylls, the former star of Discovery Channel's Man vs. Wild.
Tentatively titled Get Out Alive, the reality show will put teams of two in extreme situations in the wild, and the goal is presumably to, you guessed it, get out alive. "Get Out Alive will be raw, tough and unrelenting, but it will also inspire and teach the essentials that one day may just save your life," Grylls says in a statement. "The goal is to empower people with the ultimate in both survival and teamwork, and that brings incredible reward…but first there must be some pain."
Get Out Alive is the first time Grylls will star in a show on network television. He left Man vs. Wild earlier this year over "a continuing contractual dispute" with Discovery Channel. The show came under fire over allegations that the survival scenes were staged and that Grylls actually stayed in hotels while shooting. Grylls has since apologized if viewers felt misled by the way the show was represented.
Get Out Alive, which has received an eight-episode order from NBC, is set to air in the summer of 2013.
(E! and NBC are both part of the NBCUniversal family.)