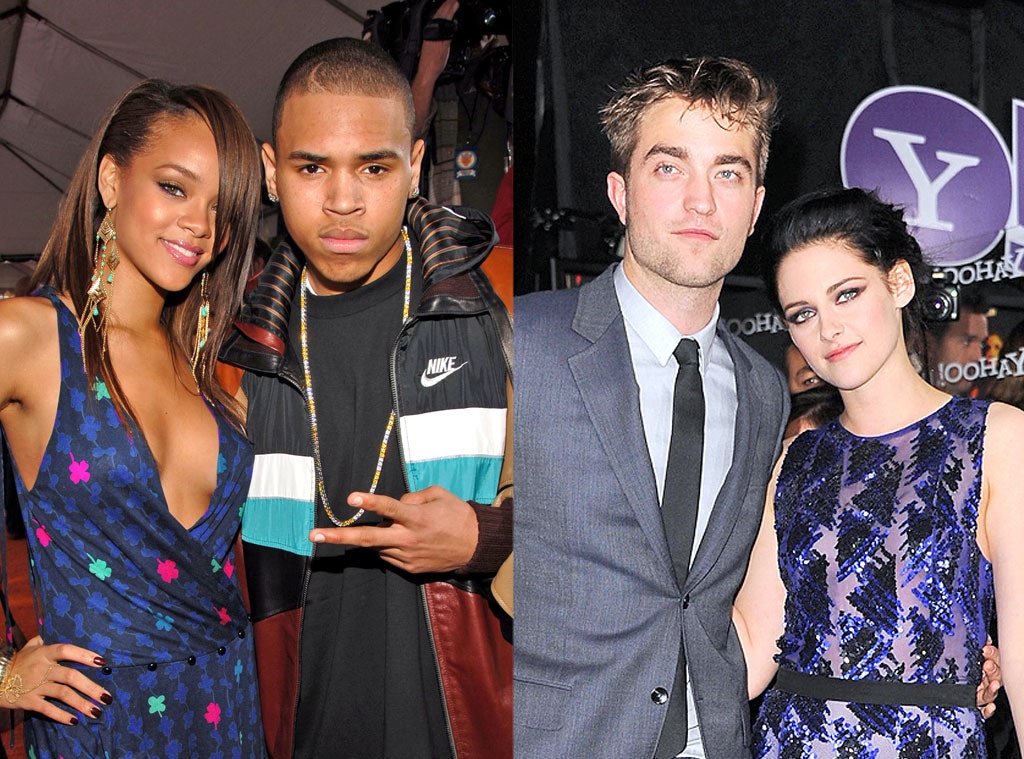 Kevin Winter/Getty Images; Kevin Mazur/WireImage
Robert Pattinson and Kristen Stewart, Chris Brown and Rihanna—they've all gotten back together? Can either of those couples last?
—Holmes R., via Twitter
I hesitate to call anything "a couple" that involves a grown-ass man using a dashboard as a brickbat for his girlfriend's face—an act that Chris Brown has never really taken responsibility for, in my humble opinion. But I've crunched the numbers on all four of these people for you, and I have your odds, should you be a betting type.
First, let's look at Brown and Rihanna. They are, apparently, getting friendly again, if not merely disrobing each other in the middle of clubs. Brown recently announced that he and model girlfriend Karrueche Tran had split over his "friendship" with Rihanna—the kind of friendship which involves getting disrobed by the singer at clubs.
So, assuming they're an item, experts are doubtful whether anything lasting or healthy can ensue.
"When she gets under his skin like no other person can, how will he deal with it?" wonders relationship expert Dr. Gilda Carle, author of Don't Bet on the Prince. "Has he done enough work on himself? How will he deal with being second guessed or having his buttons pushed by a woman?"
Theoretically, he's a more mature man now and he hopefully has some anger control, but the rate of recidivism is very high, statistically. People who have these kinds of violence issues take a very, very long time to get over them."
Assuming Brown's gotten over them at all.
"The jury is still out," echoes Dr. Sheri Meyers, licensed marriage and family therapist and author of Chatting or Cheating. "But the prognosis isn't good."
As for Robsten, that's a different story. Those two are apparently cozy again as well, all matters Rupert Sanders-related apparently forgiven. Well, either that or they just had some dinner, but anyway.
"I give them a much better chance than Rihanna and Chris," Meyers says. "They have got such a foundation between them, they grew up together, they have the same career interests, and hopefully they have each others' back.
"I always look at affairs as opportunities for healing if the couple is willing to do the work."
For Carle, the key lies with whether the two have had enough time to work through the motivations for Stewart's cheating in the first place. If we don't know that, we really can't know anything about a future outlook.
"Lying to yourself and lying to your mate does not make for a long lasting relationship," Carle explains.
I'd love to hear what you think about these folks. Sound off in comments, or tweet me your own thoughts at @askeanything.