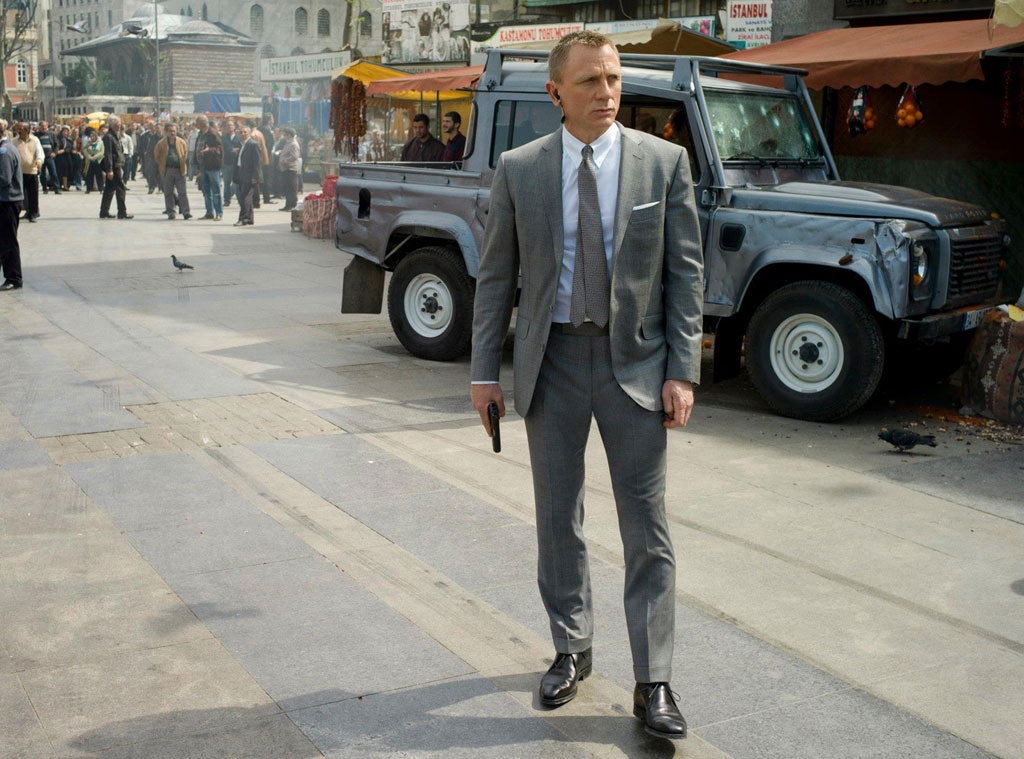 Francois Duhamel/Columbia
If there's something we'd like to see someday, it's Daniel Craig standing in front of us in nothing but a pair of underwear.
While we wait for that dream to never become a reality, we caught up with someone who has been that up close and personal with the British actor—Jany Temime, the French costume designer for Skyfall.
"You could put a garbage bag on him and he will look good, that is true," Temime said. "But Bond is a very powerful man and he's serving the Queen. He's a legend. I can tell you that Daniel looks fantastic in his underwear, but that is not the point. "
With that in mind, we give you five things you must know about 007's Skyfall fashion…
1. Tom Ford Is the Official James Bond Designer: Temime worked closely with Ford, who created Bond's entire wardrobe for Skyfall as well as Quantum of Solace. "I did a fitting with Daniel, and we established the sort of costume he wanted and the look he wanted to have," Temime says. "We were quite definite about it—it had to be slim fit, slightly '60s with a small lapel, very body-conscious. So I showed Tom photos of Daniel from the fitting and he produced suits that were quite remarkable."
2. Everything Was Handmade: The suits were made by tailors handpicked by Ford. "They were from Italy," Temime said. "They came dressed up like little princes. They smelled perfect and they looked perfect. They looked Daniel up and down and then they just started."
3. The Suits Are Indestructible: "He was boating, he was fighting, he was shooting and I thought, 'Oh, my God! The suit is still there,'" Temime remembers. "It was amazing. The fabric was so strong and it was so well made. It was very resistant."
Francois Duhamel/Columbia
4. There Were Only Six Different Suit Designs: They had to make 20 to 60 duplicates of each suit. "You have to think, just the opening sequence, we used 60 suits because he has three or four different stunts," Temime says. "He has his body double, then he has his stuntman for his motorbike, but then he has his stuntman for the fights, and each of those men have a different body and so on."
5. Temime Dressed the Bond Girls, Too: Naomie Harris, who plays Eve, "has the most beautiful bottom in the world. I mean, like two apples," Temime says. "Nobody could believe how they were looking like in a skirt."
As for Bérénice Marlohe, who plays Sévérine, Temime says, "She has lips and a waist and is very curvaceous. It's a very sexy body. My inspiration for her was the style of the cinema of 1950s film noir, something avant-garde and also a classical beauty."