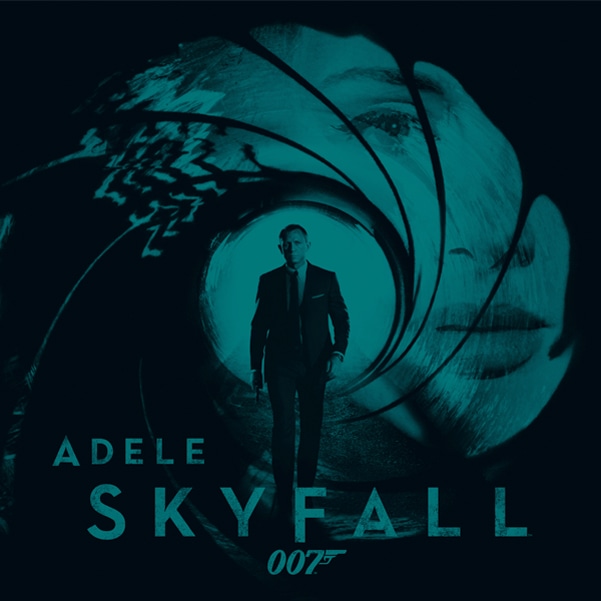 Columbia
And for his 50th movie birthday, James Bond got a new Adele song.
"Skyfall," from the upcoming Daniel Craig adventure of the same name, was fully leaked Thursday, one day before the golden anniversary of the first Bond film, Dr. No. 
Because of the song, and in honor of the spy, we've given a new listen to every previous 007 opening-credit track, and decided where Adele's ranks among the greats. And not-so greats.
"Skyfall" Wants to Be: Shirley Bassey's "Diamonds Are Forever." Not a bad idea to aim high.
"Skyfall" Sounds Like: A cross, and a good one at that, between the 1971 Bassey classic, and a more-focused version of Garbage's "The World Is Not Enough."
"Skyfall" Is the Best Bond Song Since: Chris Cornell's quite-fine, if "Livin' La Vida"-y "You Know My Name" from Craig's Casino Royale. (Sorry, Jack White and Alicia Keys, but would it have killed you to sing, "You are my quantum of solace..." just once in "Another Way to Die"?)
"Skyfall" Is Way, Way, Way Better Than: Take your pick from the a-ha mess, "The Living Daylights," the Gladys Knight snoozer, "License to Kill" and Lani Hall's forgettable "Never Say Never Again."
"Skyfall" Is No "For Your Eyes Only": We're not saying the Sheena Easton song is better than Adele's—it's not. We're saying "Skyfall" is too Bondian to work as a stand-alone pop hit and/or as a slow dance at junior prom.
"Skyfall" Is the Worst Title Cheat (Among Songs That Bothered to Work in Their Titles) Since: "Thunderball." Lyrically, Adele takes the inscrutable Skyfall and makes it the easier "sky fall" in the same way songwriters John Barry and Don Black took the safe route in noting manly man Sean Connery "strikes like thunderball" rather than "sports a pair of you-know-what."
And so the bottom line:
"Skyfall" Is the Second-Best Bond Song of the 21st Century: This is complement. The last decade has produced four good-to-very good Bond songs, led by Madonna's electric "Die Another Day."
"Skyfall" Is the Third-Best Bassey Bond Song of All-Time: Behind "Goldfinger" and "Diamonds Are Forever," but miles ahead of the meandering "Moonraker."
"Skyfall" Is the Best Bond Song Ever by a Single-Named Solo Artist: Lulu's own Bassey-aspiring number, "The Man With the Golden Gun," is, and was, a cheese-fest.
(Originally published Oct. 4, 2012, at 3:05 p.m. PT)